Prisoners have basic rights against torture, ill-treatment, and other forms of injustice while being detained, but around the world inmate...
Read more
Brand-new Channel 5 documentary on Broadmoor Hospital reveals the secrets of the most infamous patients directly from those who've worked ...
Read more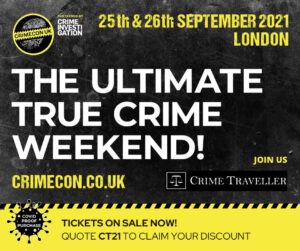 Crime Traveller is a proud media partner of CrimeConUK
Find out who will be there and what's lined up here:- The Biggest True Crime Weekend Experience in London 2021. More info and tickets at crimecon.co.uk. Use code CT21 to get a 10% discount on your tickets!
COVID PROOF PURCHASE – Your ticket is completely protected. Should CrimeCon UK in September 2021 not be possible due to COVID-19 restrictions then the event will be moved to a later date. Your ticket will be transferred automatically to the new dates or refunded in full immediately should you prefer.
Ruth Ellis was the last woman to be hanged at London's Holloway Prison in 1955 influencing the final abolishment of ...
Read more

A new research study has found sleepy adolescents were more likely to be antisocial during adolescence and were 4.5 times ...
Read more
True Crime Book Reviews & Author Interviews
The harsh punishments of the Victorian prison system are showcased in Victorian Convicts, a book examining the lives and crimes ...
Read more