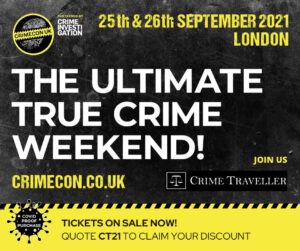 Crime Traveller is a proud media partner of CrimeConUK
Find out who will be there and what's lined up here:- The Biggest True Crime Weekend Experience in London 2021. More info and tickets at crimecon.co.uk. Use code CT21 to get a 10% discount on your tickets!
COVID PROOF PURCHASE – Your ticket is completely protected. Should CrimeCon UK in September 2021 not be possible due to COVID-19 restrictions then the event will be moved to a later date. Your ticket will be transferred automatically to the new dates or refunded in full immediately should you prefer.
Prior to Dorothy's sudden disappearance in May 1980, she had been receiving terrifying phone calls from a mystery caller.
Read more
A PSYCH FOR SORE MINDS
With Consultant Forensic Psychiatrist Dr. Sohom Das
A unique blend of true crime and mental illness with insights and analysis of high-profile true crime cases, mental health diagnoses and conditions plus a range of guests and interviews.
There's something for everyone on this YouTube channel!
Domestic abuse comes in many forms, from physical violence to psychological, emotional and sexual abuse. For men, women, and children ...
Read more
True Crime Book Reviews & Author Interviews
Four gripping and recent true crime cases make up this prequel to Jack Rosewood's True Crime Stories book series, with ...
Read more