"Jonathan Oates gives a fascinating inside view of Haigh's attempt to carry through a series of perfect murders. For Haigh intended to not only cut off his victims' lives but, by destroying their bodies with acid, literally to remove all traces that they had ever existed."
---
John George Haigh, the so-called 'Acid Bath Murderer' was one of the most notorious serial killers in British history. Responsible for at least six murders in England between 1944 and 1949, Haigh's signature was disposing of his victim's bodies in vats of sulphuric acid. This is a man who has attracted the attention of both authors and journalists alike. All trying to understand the motivations of a serial killer who operated in the post-Second World War era of 20th century Britain.
Look up 'John George Haigh' on Google and you will find pages and pages of articles recounting the grisly crimes of this intelligent but sinister man. Much has been written over the years with details being changed and added to and accuracy is often questionable. The famed 'Acid Bath Murderer' for example, never actually used baths to dissolve his victims; nevertheless, the nickname coined by the media in 1949 has stuck.
In his book 'John George Haigh: The Acid-Bath Murderer – A Portrait of a Serial Killer and His Victims', Jonathan Oates has presented a well-researched, detailed, and exciting piece of writing using original documents and testimony to examine a case as intriguing as it is horrifying.
Furthermore, this is an author with an array of titles under his belt that piques the interest including 'John Christie of Rillington Place: Biography of a Serial Killer', 'Great Train Crimes: Murder and Robbery on the Railways' and 'Unsolved London Murders: The 1920s and 1930s'. A local History Librarian, Jonathan Oates is an expert in the history of London, including its crimes and criminals. His experience in historical writing is clear with his attention to detail and flowing narratives making this book easy and enjoyable to read. Jonathan Oates takes you on a journey through the childhood of John George Haigh, leading you into his life of crime and through each one of his murders.
---
The victims of John George Haigh are given the attention they deserve, exploring their histories and giving a true picture of who they were before their lives were taken. Haigh's arrest, his trial, conviction, and eventual execution in 1949 are dealt with chapter by chapter, allowing you to discover the full story from beginning to end.
"As he follows the course of Haigh's crimes in graphic, forensic detail, Jonathan Oates gives a fascinating inside view of Haigh's attempt to carry through a series of perfect murders"
John George Haigh: The Acid Bath Murderer
John George Haigh was raised by parents who were part of the Plymouth Brethren, a religious group with strict beliefs about external influences, family life, and relationships.
He was a well-loved and looked-after child with a good education and solid standing in life. However, always showing a flair for the dishonest, John George Haigh had a string of offenses before he began his murderous behavior. Theft and fraud are prominent in his history alongside spells in prison. He was not a stranger to the legal system. He was a man who saw what he wanted and created a method to take it, with little regard for who he hurt in the process.
The hard-working and respected McSwan family was the first to fall victim to the devious John George Haigh. In 1944, Donald McSwan was bludgeoned to death in Haigh's basement workshop before his body was placed in a drum of acid to be dissolved completely. After spending his money and depleting all of his other assets, John George Haigh turned his attention to his parents, Mr. and Mrs. McSwan. He mercilessly killed the couple in the same way, using his forgery skills to obtain access to their properties and their money.
These were victims carefully chosen to ensure he could explain away their disappearance to the few people who may inquire. In the final year of the Second World War, when people were struggling to get back on their feet, John George Haigh enjoyed the monetary rewards of his kills. Once this money ran out, he again looked to murder to replenish his supply.
"I never had any great affection for any of my eventual victims, though nor did I think they greatly trusted or respected me."
In late 1947, Dr. Archibald Henderson and his wife advertised a house for sale in London, giving Haigh an opening to build communication with the couple.
By mid-1948, both had been shot in the head and their bodies dissolved in drums of sulphuric acid. John George Haigh lied to their family about their whereabouts, forged their handwriting, and controlled their affairs by giving himself access to their assets in the process.
Haigh believed he was committing the perfect murders, getting rid of the bodies so no trace could be found and he could never be held responsible. Within 12 months he was on the lookout for another means of obtaining money. Mrs. Henrietta Durard-Deacon was an elderly somewhat old-fashioned lady who many would have described as rich. John George Haigh saw his opportunity and set about getting to know Mrs. Durard-Deacon, building a rapport with the woman he planned to murder. John George Haigh was a man who wanted the finer things in life and felt entitled to have them. He picked his victims through their worth to him whether this was monetary or property, showing his materialistic nature.
Mrs. Durard-Deacon was shot in the back of the head, her jewelry and valuables removed and her body placed in an awaiting pre-prepared tank of acid.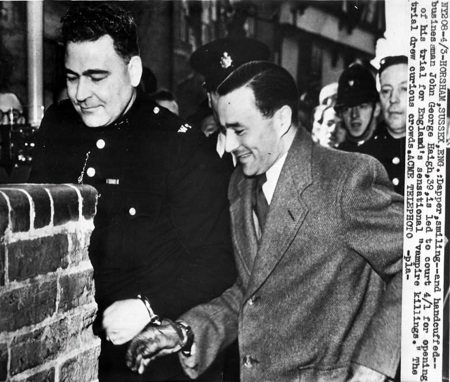 Eventually linked to his missing victims, Haigh's murders caught up with him. Possessions of his victims were found in his lodgings and forensic evidence of their remains in his workshop.
His trial attracted national and international press with over 30 witnesses called for the prosecution case against him. John George Haigh knew his best defense would be to plead insanity at the time of his crimes and his defense attorney, David Maxwell Fyfe, did just that.
His defense consisted of his strict religious upbringing, his apparent dreams throughout his youth of Christ bleeding on the cross, suggestions of paranoia, and his motivations were to drink the blood of his victims, believing he was a vampire. Not taken in by these explanations, the jury took little time to convict him of murder, and in 1949 John George Haigh was subsequently sentenced to death by hanging.
"Jonathan Oates gives a fascinating inside view of Haigh's attempt to carry through a series of perfect murders. For Haigh intended not only to cut off his victim's lives but, by destroying their bodies with acid, literally to remove all traces that they had ever existed."
With a writing style that is easy to understand yet detailed, Jonathan Oates writes with realism, not theory and opinion. He gives descriptive accounts of the case with an analytical slant presenting quotes and anecdotes from those who knew John George Haigh at different stages of his life.
As he moves through the events that eventually led to Haigh's execution, excerpts and quotes are woven naturally within the narrative, adding to the text and bringing the story to life. As a reader, you gain a real sense of understanding of how events unfolded, particularly throughout Chapter 7 which deals with the trial of John George Haigh.
Populated with snippets from the trial itself you are transported back to the time of 1949 England and the language and practices used. This is a book to enlighten readers about the complexities of this case, ensuring researched accurate facts are provided throughout. You are not left with questions or a feeling that something is missing on completion of this book, you are left with an understanding and new knowledge about a fascinating case.
---
As a historian, Jonathan Oates has included in-depth facts as he leads us through Haigh's life. In the early chapters exploring the childhood and youth of John George Haigh and the histories of his victims, there are many dates, addresses, monetary figures, and names noted within each narrative. While interesting and informative, if there could be any criticism of this book, it would be that such a level of detail at times can move you away from the story at hand, almost getting lost in the facts and figures. However, this is a minor point in an otherwise excellent piece of writing.
While this book is a historical account based on facts, it is equally an examination of John George Haigh as an individual and an intricate portrait of his criminal lifestyle. It is an inside look into the life of one of the most interesting serial killers in British history.
When you buy a book about a historical criminal case you expect all the details to be included and that is certainly what you get here. The sheer amount of information regarding this case that has been included in this book is impressive. Moreover, how Jonathan Oates has very successfully managed to include such detail in a flowing and logical manner has to be admired.
This is not a sensationalist book, reproducing the details of a gruesome case thrown together for a sale. This is a well-researched and well-structured informative book into the life, crimes, and victims of John George Haigh. While the more gruesome details of Haigh's crimes are not shied away from, they have not been exaggerated or focused on too much either. The victims of his crimes are given attention, and their lives and histories are explored which is rare in many true crime books but is very much welcomed here.
If you are looking for a detailed, accurate, and in-depth look at John George Haigh and his crimes, following through to his capture, trial, and execution, this is the book for you.
You can purchase a copy of John George Haigh: The Acid Bath Murderer at Pen & Sword Books.
John George Haigh: The Notorious 'Acid Bath Murderer' of 1940's Britain
by Jonathan Oates
Overall Rating 4.5
Writing Style
Readability
Enjoyment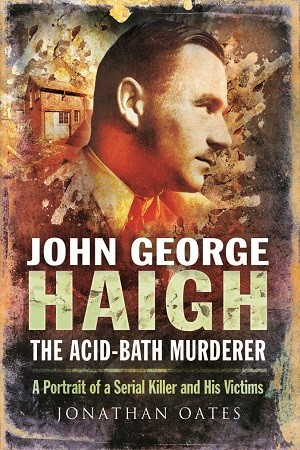 John George Haigh nicknamed the 'Acid Bath Murderer' was a British serial killer who murdered at least six victims between 1944 and 1949. Jonathan Oates presents an honest, accurate and well-researched book into this historic case. Using documents and testimony from those who knew Haigh, the reader is taken on a journey through John George Haigh's childhood, into his criminal activity, and through his trial and eventual execution in 1949. An excellent book for an in-depth, well-structured and enjoyable look at a fascinating criminal case in British history.
BUY AT AMAZON
Related Books:
As an Amazon affiliate, Crime Traveller may earn a small commission from qualifying purchases. See our
Disclaimers page
for more information.
Unlimited reading on any device, try
Kindle Unlimited from Amazon
for free.
Prefer Audiobooks?
Audible 30-Day Free Trial
with free audiobooks.