In June this year, CrimeCon will be coming to London. A full weekend event designed to indulge true crime fans with talks from expert speakers, presentations and demonstrations, immersive activities, and opportunities to meet podcasters, authors, and TV personalities. But CrimeCon aims to do much more than entertain.
The weekend is about bringing people together. Providing education, knowledge, and understanding. And it is an opportunity to provide support and recognition to those who have been the victims of crime, and to the many families who are still fighting for justice.
I wanted to share with you the story behind two people who were at the very first CrimeCon to ever take place in the UK, in London in September 2021, Marie McCourt and Fiona Duffy, courtesy of CrimeConUK.
One day in February 1988, 22-year-old Helen McCourt went out to work as normal. But she never came home. That night, Marie McCourt's identity as an ordinary, working mum was destroyed entirely.

Helen's disappearance triggered one of the largest missing person's enquiries in the country. Due to overwhelming and ground-breaking forensic evidence, local pub landlord Ian Simms was charged and convicted of her murder. The case made global headlines as the first murder conviction without a body to use DNA evidence. It was also believed to be only the third ever 'missing body murder' conviction in Britain since the Second World War.

Simms has refused to say where Helen's body is, meaning her remains have never been recovered.

The emotional anguish that this has caused Helen's family cannot be expressed in text. But they have never given up on Helen. Determined that her daughter should have a decent, Christian burial, Helen's devoutly Catholic mother Marie began a heart-breaking quest to find Helen's remains and bring her home. The next three decades saw her embark on gruelling searches, become a champion for victims' rights, and take her fight for justice all the way to Westminster.

During her campaign, Marie met journalist Fiona Duffy. The two women forged a lifelong friendship resulting in countless articles and an award-winning campaign for justice for the families of missing murder victims; these awards include the UK Press Gazette British Journalism Awards for Campaign of the Year (2019) and the Journalism Matters Making a Difference Award (2020).

Thanks to the tireless efforts of Marie McCourt and other campaigners, on 15th December 2020 Helen's Law was passed. As Justice Secretary & Lord Chancellor Rt Hon Robert Buckland QC MP said: "Helen's Law makes it absolutely clear that murderers and evil sexual offenders who refuse to disclose information about their victims should expect to face longer behind bars."

Together, Marie and Fiona have written 'Justice for Helen', a book detailing their campaign for justice. We are honoured that both Marie and Fiona will be appearing at CrimeCon UK in 2021, where they will be sharing their experiences around Helen's harrowing case and the monumental legislative change that followed it. By providing a platform for the stories of victims and their families, we hope to honour those affected by crime and facilitate positive societal change.
---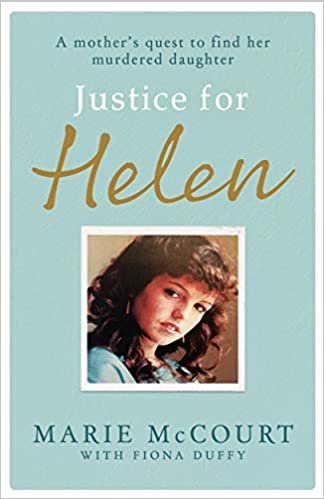 Justice For Helen by Marie McCourt with Fiona Duffy
"For over 30 years, Marie has searched, in vain, for her daughter's body and campaigned tirelessly to prevent other families from facing the same horrifying fate, taking her fight to the houses of parliament. This is the incredible story of a mother, devastated by the loss of her daughter, who found the strength and determination to change the law."
---