---
It was the best of times, it was the worst of times, Issac was happy, Issac was miserable, Issac loved his wife, Issac hated his wife, Issac was murdered, Issac killed himself.
Only this was certain: Issac was dead. On June 1, 1897, at 6:45 p.m., a night watchman found Issac Hoffman lying on the floor of his San Francisco office with three bullet wounds in his head. Another bullet hole was in the wall.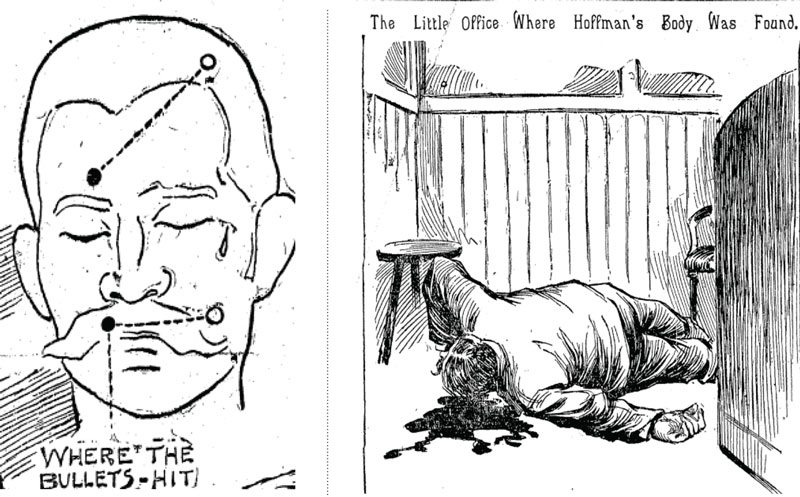 The autopsy report said, "..one bullet entered the skull at the top of the head, upon the left side. It split from contact with the bony structure part passing under the scalp, emerging from the cheek at a point half way between the eye and ear, producing the second wound. The remainder of the bullet passed straight down and tore through the skull, passing between sections of the brain. The second bullet entered the left cheek upon a line with the other two wounds."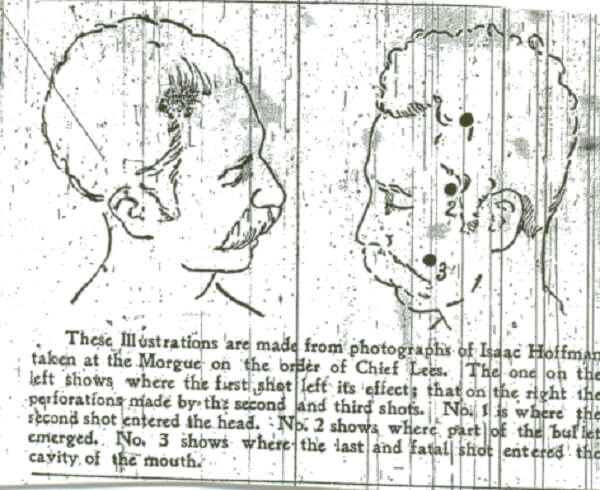 Circumstances pointed to Theodore Figel, Hoffman's bookkeeper. Figel was seen with Hoffman, a partner in Hoffman, Rothschild, & Co., 30 minutes before his body was discovered, and it was Figel's gun that shot Hoffman. Police Chief Isaiah Lees, San Francisco's legendary detective, questioned Figel.
Two days later, to everyone's surprise, Lees declared that Hoffman had committed suicide. But why? Hoffman's business was prosperous, and he seemed to be in the best of spirits. The answer was a subject near and dear to 1950s comedians: his mother in-law.
There was great discord in the Hoffman household. Hoffman's mother-in-law was the widow of his former business partner. She felt cheated by the amount Issac had paid her for her husband's share and was suing him. Hoffman's wife sided with her mother and complained bitterly about her husband's stinginess. Letters that Issac had taken from his wife suggested a tempestuous relationship between them. And just minutes before his death, Hoffman asked a friend, "How can I be happy when I have such a mother-in-law?"
At the inquest, Mrs. Hoffman painted a different picture, that of a close-knit family. The letters were a minor misunderstanding. Each night his family waited for his entering footsteps before starting dinner. Hoffman hated guns and never owned one.
The coroner testified against the suicide theory, pointing out that Hoffman had been shot three times on the left side of his head, even though he was right handed.
A number of doctors and Chief Lees still believed suicide was a possibility. The police department was split between Lees' suicide theory and his detectives, who believed the death was murder.
Soon troubling information about Figel came to light. Figel was a gambler and lost thousands of dollars at the race track. There was also a discrepancy of more than $10,000 in the Hoffman company books, but it wasn't an open-and-shut case. Figel had many alibi witnesses who placed him away from the office when the shooting occurred. And his father Joseph, a retired businessman, spent his fortune on the legal defense of his son.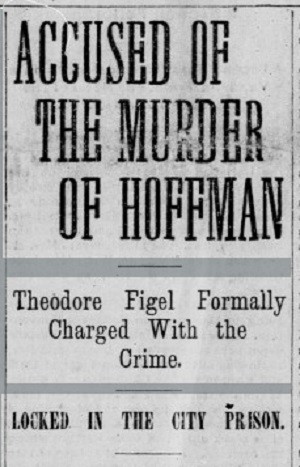 Figel was arraigned on embezzlement and murder charges. The murder case was tried first. At trial, Figel explained away the embezzlement by saying Hoffman had given him the money to bet at the track. He also blamed the financial irregularities on his assistant. Figel produced witness after witness who testified that they saw him at a saloon and on a trolley heading for the Tiburon Ferry at the time the shooting would have taken place. Two doctors testified that Hoffman's wounds were self-inflicted.
On March 7, 1898, a jury found Figel not guilty of the homicide, but the jury also rejected the idea that Hoffman had committed suicide.
The embezzlement and forgery charges were later dismissed as well, on a motion of the District Attorney. Figel's father had spent all his money defending his son and he was forced to go back to work.
In 1904, he left the business to his son. Three months later Theodore Figel was arrested for forging a check for $965 at Wells Fargo Bank to replace money he lost at the track. After paying bail, Figel disappeared, leaving his wife and children penniless.
---
Postscript: I sent the autopsy description and illustrations of the bullet's path to Ken Moses, former head of the San Francisco Police Department's Crime Scene Investigation unit. Moses is a nationally recognized leader in the CSI field and has testified in more than 900 trials. To my amazement, Moses said a finding of suicide was not only possible but likely.
"Some suicides use their nondominant hands to shoot the gun," Moses said. "This makes the hand shaky, and you often get downward and unusual paths of the bullet. From the description, it doesn't seem that much brain tissue was destroyed. Of course, I'd have to see much more information to make a definite call."
---
About the Author: Paul Drexler has been a crime historian since 1984 and founded Crooks Tours of San Francisco with former SFPD Deputy Police Chief Kevin Mullen. His column, "Notorious Crooks" has appeared numerous times in the San Francisco Examiner and other publications. He has appeared on the Discovery ID Network show Deadly Women as an expert on San Francisco murderesses. In 2017 he received the Oscar Lewis Award from the San Francisco History Association. His book, San Francisco Notorious will be published by R.J. Parker Publications in 2019. His website is www.crookstour.com.
Read more from Paul Drexler: