"A female thief, with four husbands, a lover, and, reportedly, over twelve children, is arrested and tried for the murder of her stepson in 1872, turning the small village of West Auckland in County Durham upside down. Other bodies are exhumed and when they are found to contain arsenic, she is suspected of their murder as well."
The story of Mary Ann Cotton, at first glance, mirrors that of the typical Black Widow; a woman who murders her husbands for financial reward.  Known as the 'Dark Angel' and the 'West Auckland Poisoner', the case of Mary Ann Cotton is a popular one within historical true crime.  Arrested and charged with the murder of her 7-year-old stepson Charles Cotton in 1872, the deaths of three husbands and up to eleven children along with her own mother soon became under suspicion.
Mary Ann Cotton was found guilty and hanged on 24 March 1873 at Durham Country Gaol by executioner William Calcraft. The question is, however, how many people did she actually murder if, she was guilty of murder at all?

Martin Connolly is a researcher and writer who felt compelled to write the full story of Mary Ann Cotton after living in the village where she is thought to have carried out many of her murders and hearing the folklore.
In his book Mary Ann Cotton: Dark Angel he has certainly done that, including comprehensive research unearthing timelines, photographs, and excerpts from trial transcripts, personal letters, and newspaper articles of the time. It is a complex in-depth book on a complicated case spanning decades and impacting the lives of many.
Mary Ann Cotton was born to two young parents in 1832, in County Durham, England. An intelligent and well-behaved child, there were no indications of the destruction and murder she would be accused of in later years. Like many children in the mid-19th century, she lost her father in a mining accident, leaving her family with no income and no home.  Her mother remarried quickly providing the young Mary Ann with a new head of the household.
Her path then follows that of a typical Victorian girl where she meets and marries her husband, William Mowbray, aged 19, and starts a family in 1852.  By 1865 however, she has lost six young children and her husband to gastric fevers and intestinal illnesses.
19th century living in Victorian Britain was harsh with illnesses including cholera and typhoid common, causing thousands of deaths each year.  It was not unusual for wives to be left widowed from such illnesses or industrial accidents or for their children to never make it to adulthood.  What was uncommon was in the following 7 to 8 years, for such women to have lost a further two husbands, five children, and their mother to a range of illnesses, all having the familiar signs of a gastric origin.  However, in 1872 few were aware of the collective number of unfortunate deaths which had surrounded this young woman and suspicions were yet to be raised.
"In March 1872, young Fredrick Cotton junior took ill and on 10 March he died of gastric fever. Another death for Mary Ann and the village folk continued to view her with pity." – Martin Connolly
Martin Connolly has clearly spent time and patience in research for this book.  His narrative is very detailed to the point where it can be confusing and difficult to follow in the early chapters.  In part, this is due to the complex nature of Mary Ann Cotton's life with numerous husbands and surname changes and the births and deaths of so many children to keep track of, but also the inclusion of excerpts from her much later trial and news articles written at a later date.
A repeated flick back to earlier pages is required to follow these chapters coherently and if you do put the book down and pick it up again another day, it can cause havoc with your following of the story as a whole. Each new chapter provides another layer of events involving Mary Ann Cotton, all of which appear to have resulted in the death of individuals close to her.
The collection of life insurance emerges as a regular theme among the deaths of her husbands and curiously the only husband to outlive Mary Ann Cotton was her third, James Robinson, who reportedly refused to have a life insurance policy at all.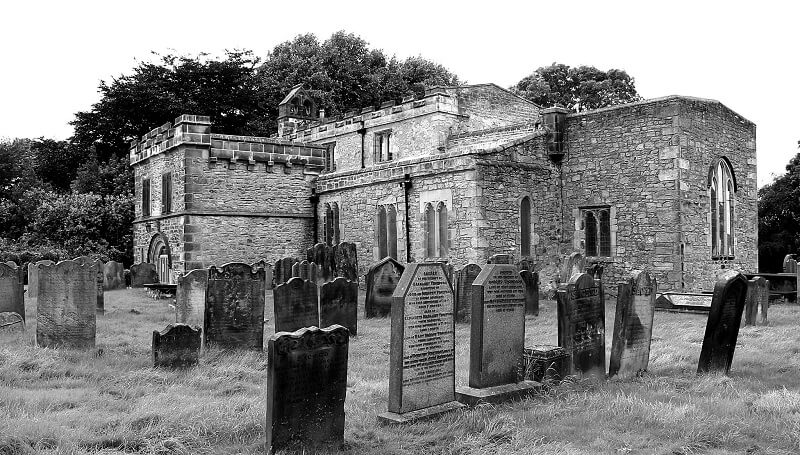 The suspicion for Mary Ann Cotton arose after the death of her stepson from her fourth marriage to Fredrick Cotton.  Charles Cotton had fallen ill and died within a short period of time and her comments to a local parish official before his death that 'he would soon die like the rest of the Cottons', became a sentence that would haunt her and send her into the dock charged with his murder.
His small body had been tested and found to contain arsenic, leading to the conclusion that Mary Ann Cotton had intentionally poisoned the child. Mary Ann Cotton: Dark Angel is quite heavy reading with a great deal of information to digest. In later chapters which cover the trial of Mary Ann, this level of detail does work better giving an insight into how a criminal trial proceeded in 1873 and the full proceedings against the accused.
These chapters include excerpts of witness testimony and prosecution statements alongside examples of the obvious trial by media that was taking place around Durham and surrounding England through the fascination of newspapers and the public in the case of the 'West Auckland Borgia'.
What is also apparent is Martin Connolly's questioning of such proceedings, raising doubts and theorizing on events.
The case of Mary Ann Cotton may not have been as straightforward as it first appeared. After her murder charge for the death of young Charles Cotton, the number of deaths surrounding her in previous years became under scrutiny and exhumations were ordered for further testing to be carried out.  Very little by way of defense was offered during her trial. The strongest and loudest evidence heard were the traces of arsenic discovered through the exhumation and testing of earlier victims suggesting arsenic was the cause of their death.
"With no legal representation, she relies on a nurse to guide her understanding of the proceedings. One wonders if this can be called justice." – Martin Connolly
Martin Connolly uses his research skills to highlight plausible defense theories in the case of Mary Ann Cotton.  He, for example, discovers the article published in the respected medical publication The Lancet which discusses deaths that have occurred due to the arsenic present in green wallpaper.  Arsenic can be released into the air when such wallpaper is heated through the presence of a fireplace in the room.
Further findings which suggest that the damning medical evidence of arsenic found in the bodies of her earlier supposed victims may have come from samples not stored or tested correctly. All plausible reasons for reasonable doubt and a strong indicator that should such a trial have taken place today, it is highly unlikely Mary Ann Cotton would have been convicted based on largely circumstantial evidence.
"Without making any claims as to the guilt or innocence of Mary Ann Cotton, it would appear to any independent minded person, that there was a great deal wrong with these hearings, and more than a shadow of doubt about their conclusions." – Martin Connolly
For true crime historians, fans of intriguing true crime tales, and those interested in how criminal justice operated in the Victorian era, this is a well-presented book on a complex case. Furthermore, it is a book that explores all the evidence available and questions whether or not the conviction and execution of Mary Ann Cotton in 1873 was the correct outcome.
You can purchase a copy of Mary Ann Cotton Dark Angel: Britain's First Female Serial Killer by Martin Connolly from Pen & Sword Books.
Related Books:
Unlimited reading on any device, try
Kindle Unlimited from Amazon
for free.
Prefer Audiobooks?
Audible 30-Day Free Trial
with free audiobooks.