"A devil once lived in God's own county. A grotesque figure with many names and many faces, he could slip into the home of an unsuspecting family with the silent stealth of a cool night time breeze, and leave without a trace."
Life in Victorian Britain for those who were not in the privileged few was a tough road of hard graft, low pay and dangerous working and living conditions.  Factories and coal mines littered the UK's cities and while bosses counted their cash, workers risked their lives on a daily basis trying to make enough money to survive. For many, this life was grueling and degrading but they trudged on year after year trying to make the best of what they had.  For others, the appeal of fast cash and little work turned their heads and criminal lives amongst the Victorians were not uncommon.
Charlie Peace was one such man who over time became a master criminal and a charismatic individual who used his unique skills to almost every advantage. He had determination, self-confidence, and a creativity which would serve him well throughout his colorful life, although no doubt these were also the traits which contributed to his eventual demise.
"Swapping his clothes for a new outfit provided by his friend was a good start, but it was in this house that Peace first came up with one of his most creative methods of disguise. Using walnut oil, he stained the skin of his hands and face before once again stepping out onto the street." – Ben Johnson
The story of Charlie Peace is a remarkable one found in amongst Victorian history but it's one which was soon overshadowed by the ruthless and unsolved Jack the Ripper murders of Whitechapel, London in 1888.
Author Ben W. Johnson became fascinated by this story and his book Charlie Peace: Murder, Mayhem and the Master of Disguise, brings this intriguing tale onto our bookshelves and into our modern-day kindle devices. His style is light and refreshing, producing an engaging book and an interesting read from start to finish.
Ben Johnson has pieced together the life of Charlie Peace, from his childhood in the 1840's in Sheffield, England through to his death in the gallows of London in 1879 aged just 47 years old.  This story reads effortlessly through flowing narrative without any dalliance into distracting detail, simply a focus on the story and on the man who was Charlie Peace.
While in places descriptions and emotions are added into the narrative to illustrate events, straying a little from a strictly historical account of facts, these details are not elaborate and their inclusion takes this narrative up a notch. Specifically, such details add humanity to this historical figure, his family and those who encountered him, which the reader can relate to and more importantly understand.
While very much a historical true crime book, it is a book which applies some modern knowledge to the behaviors of Charlie Peace, personalizing him and giving the reader a stronger figure to identify with. This is the kind of story that would make a great film.  A loving child turns criminal after the death of his father and goes on to have an energetic career as a thief and a successful house burglar evading the law until finally caught and brought to justice.
"For the first time in his life, Charlie became unruly….this wasn't the Charlie Peace that his family and friends knew and loved. He was becoming a darker and more threatening individual, turning away from those who sought to help him through his black moods." – Ben Johnson
Charlie Peace learned quickly to rely only on himself and not to risk involving others in his criminal activities. He also relied on his own unique talents; his ability to dislocate his jaw at will in order to dramatically change his appearance, his intellect to converse on current affairs, art and music and his nerve to hide in plain sight when he was being hunted by the full force of the English police.
He reinvented himself repeatedly, building new lives under the noses of the authorities who were searching for him. He was musically talented as was his father before him and able to make musical instruments out of the most basic materials which he would not only use to delight the crowds in pubs and inns but use as a guise to hide his house-breaking tools and stolen hauls, all with a smile on his face.
Charlie Peace began as a petty thief who quickly honed his skills to become a master burglar. His frequent spells in prison gave him time to reflect on his mistakes and ponder on how to do better next time; how to not get caught.
The intention of a prison sentence in Victorian Britain for it to be a harsh lesson for this young man and show him the error of his ways achieved the opposite. It gave Charlie Peace an opportunity to meet and mix with older criminals.  To get their advice and embark on a learning curve to reactivate his criminal activities the moment he walked out those gates and back into freedom. In his early career, a clear love for his family and a want to provide drove his determination for criminal perfection.  His separation from them during his long stays in prison was hard for him to bear, however, instead of vowing to stay on the straight and narrow he used this emotion to ensure he could provide for his family, but not get caught doing it.
He was bold and daring and his fearlessness and almost arrogant attitude towards the police were the qualities which aided him in escaping capture for so long. Charlie Peace, however, was not just a burglar.  He began carrying a pistol with him on his night-time jaunts into wealthy houses, a pistol he used to shoot and kill a police officer who caught him in the act and had a hand on his back.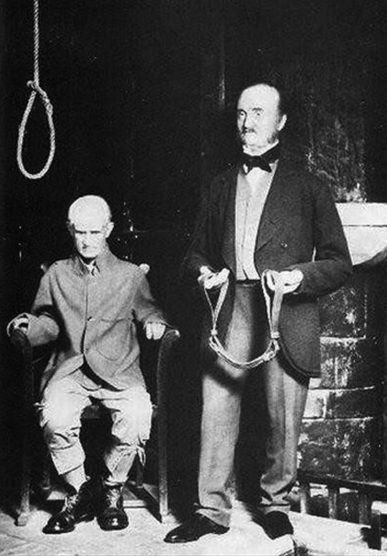 A crime he, through the unfortunate circumstances of a local farm-hand, got away with. Furthermore, Charlie Peace willingly and comfortably watched an innocent man be sentenced to prison for a murder he himself was guilty of.
"People will say that I am a hardened wretch for allowing an innocent man to suffer for the crime for which I was guilty, but what man would have given himself up under such circumstances, knowing, as I did, that I should certainly be hanged?" – Charlie Peace, 1879
This was not to be his first murder but undoubtedly encouraged his belief that he was untouchable and would not be caught. His second murder and the crime he was ultimately sentenced to death for was the 1876 murder of Arthur Dyson, the husband of a woman who had ended their courtship and denied Peace what he wanted.  His reaction was anger and revenge.
I very much enjoyed this book and gaining an insight into not only who Charlie Peace was from a criminal perspective but who he was as a person, as best as can be for a figure who lived and died over 100 years ago.
There is a clear developmental path illustrated here, highlighting how life events, his own attitudes and emotions and his actions all played their part in shaping who we know now as Charlie Peace.  While this man, as Ben Johnson rightly points out, should never be remembered as some form of Victorian hero, he was a character who displayed an astonishing ability to transform himself and achieve feats that few other criminal figures can match.  Charlie Peace: Murder, Mayhem and the Master of Disguise is a fantastic example of historical true crime at its best and it is a book I would highly recommend.
You can purchase a copy of Charlie Peace: Murder, Mayhem and the Master of Disguise by Ben Johnson at Pen & Sword Books.
[wp-review id="8109″]
Unlimited reading on any device, try Kindle Unlimited from Amazon for free
Prefer Audiobooks? Audible 30-Day Free Trial with free audiobooks