The former Seattle policewoman who made her name through crime writing, Ann Rule was the 'Queen of True Crime'. Her work has inspired writers around the world through her focus on true crime cases, her in-depth research, and her determination to uncover the truths behind every case. She published a total of 33 books during her writing career, many of which became best-sellers.
Ann Rule had a skill in telling the often brutal and harrowing stories behind some of the most famous true crimes and criminals in American history. Below is a collection of true crime classics from Ann Rule. This list includes some of Rule's early books which while published 20-30 years ago are still as eye-opening and gripping to read as her more recent publications. Sadly Ann Rule died in July 2015 of a heart attack aged 83 years old.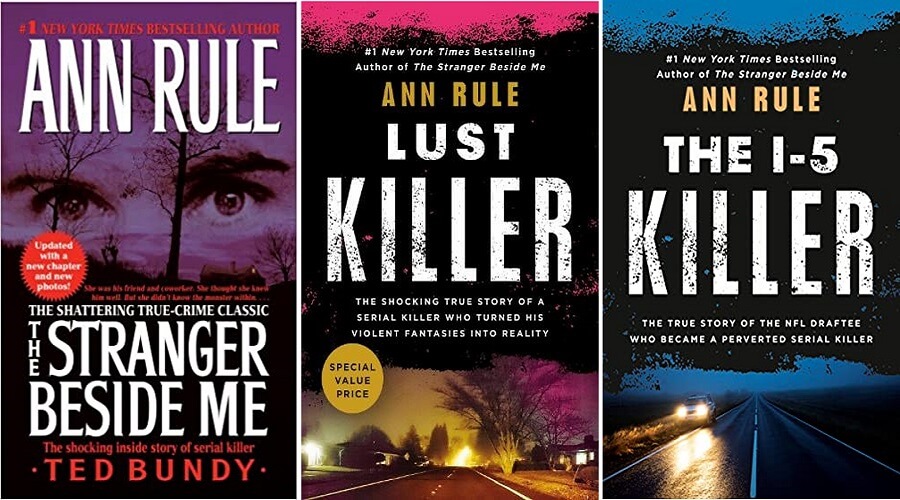 The Stranger Beside Me is one of Ann Rule's best books and what made it all the more powerful is the personal connection she had to her subject, serial killer Ted Bundy. Ann Rule worked alongside Ted Bundy at a suicide crisis hotline center in Seattle where they both volunteered their time in 1971. Bundy was a man she considered her friend, a man she thought she knew to be kind, generous, and sincere.
When it emerged that Ted Bundy was, in fact, a brutal serial killer who abducted and murdered at least 30 women, Ann Rule was as shocked as the rest of the world.
The Stranger Beside Me is a biography of Bundy's life, how his charm and power drew people to him, and how he used his personality to take the lives of his innocent victims, written by someone who knew him well. This is powerful writing and story that if you have any interest in serial killers and true crime, you do not want to miss.
Ann Rule has never shied away from the gruesome and at times horrific details in her research on serial killer cases and the content of Lust Killer is no exception. Tracing the story of Jerome Brudos, a married father of two who held a secret life kidnapping, strangling, and murdering women in Oregon in the late 1960s, Rule holds nothing back. The book follows the struggle of the lead detective on the case, James Stovall who worked tirelessly to find and stop this killer as bodies continued to surface in local rivers.
Finally piecing it all together Stovall gets a confession out of Brudos to the horror of the killer's wife, who had no idea what her husband had been up to. If ever a true crime case sounded like a fiction thriller it is this one, but as this book proves, the truth is stranger and more shocking than fiction.
The grisly true story of Randy Woodfield, a handsome, friendly guy who turned out to be every young woman's worst nightmare. From the late 1970s Woodfield prowled Interstate 5 hunting for victims to torture, rape, and murder. Believed to have killed at least 44 women before he was caught, this was a twisted individual who enjoyed inflicting pain and terror on his victims. Ann Rule delves deep into the mind of Randy Woodfield, searching in his history for signs of what was to come. She follows his life and the criminal investigation into his horrific crimes through to his capture and trial.
Rule details his crimes in her factual but chilling manner keeping you hooked while evoking horror at Woodfield's depravity. Not a book to read at night with the lights low but a captivating read that you won't be able to forget.
---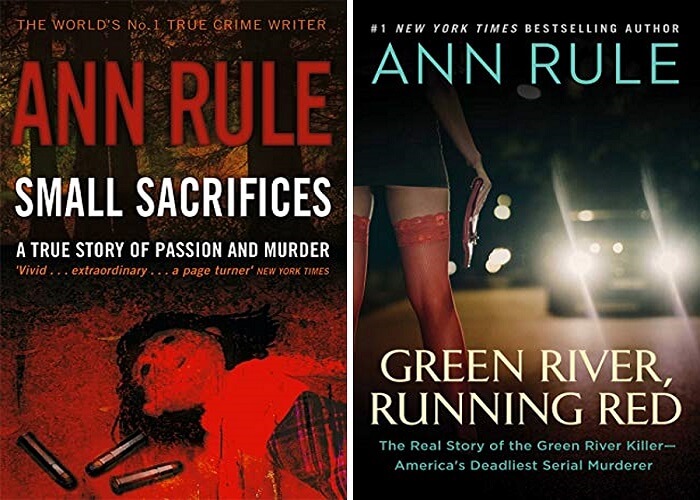 The story of Diane Downs is one as unbelievable as it is shocking. It is a story that began with a mother who arrived at the emergency room on a dark night, screaming her children had been shot and were dying in her car, and ended with this mother being convicted of murder and attempted murder after her own child testified against her in court.
Mothers who kill their children are a rare breed and Ann Rule delves head first into trying to understand this tragic and horrific act. She explores the life of Diane Downs in typical Ann Rule fashion, with the facts and the research, to present a book that is gripping and haunting.
In such a complex case few true crime writers could have achieved such an expertly written account of the life and actions of Diane Downs. An excellent read which once you start you will find impossible to put down.
Promoted as the 'Real Story of the Green River Killer', this book does indeed live up to its name. For 20 years the bodies of young prostitutes and runaways were found on the banks of Washington's Green River. Their occupations often meant no one came looking for them and worse, people didn't care what had happened to them.
Here, Ann Rule tracks the story of these murders and the hunt to find the disturbed individual that was carrying them out. In a case that challenged the stereotypes and profiles of serial killers, the search for Gary Ridgeway is recorded in history with his name being marked as America's most prolific serial killer.
While discussing Ridgeway and the 49 murders he is known to have carried out, Rule focuses attention on the victims of his despicable actions and the impact on their families alongside the police who were hunting him down. A fascinating narrative on a complex case that is not for the faint-hearted.
Unlimited reading on any device, try
Kindle Unlimited from Amazon
for free.
Prefer Audiobooks?
Audible 30-Day Free Trial
with free audiobooks.