On Sunday 1 October 2017, Las Vegas in Nevada was the scene of the worst mass shooting America has seen to date.  The Las Vegas Strip was packed out on Sunday night for a country music festival when what is believed to be a lone gunman opened fire from a hotel room on the 32nd floor inside the Mandalay Bay Hotel, located across the street from the open air concert.
The gunman killed 58 people and injured over 800 in a shocking night of violence and terror. He has been named as 64-year-old Stephen Paddock who was found dead by an 'apparent self-inflicted gunshot wound' according to ABC7, by a SWAT team who quickly located his hotel room. In his room next to his body were more than ten weapons.  A woman, 62-year-old Marilou Danley, was named as a person of interest after it was thought she had been traveling with Paddock and may have been his girlfriend. She was out of the country in the Philippines at the time of the shooting, a trip suggested and paid for by Stephen Paddock. She has been found and cleared of any involvement in the shooting, although police and FBI are keen to interview her fully for any information on what may have led Paddock to carry out this cold-blooded attack.
Paddock opened fire as country singer Jason Aldean was performing on stage. "It hurts my heart that this would happen to anyone who was just coming out to enjoy what should have been a fun night," he wrote on Instagram after confirming himself and his crew were safe and offering his thoughts and prayers for everyone involved. The concert was part of a three-day long Route 91 Harvest Country Music Festival on its final night.
Eric Paddock, the brother of the shooter who lives in Orlando, Florida spoke with the Mail Online soon after the shooting, expressing his complete shock and despair at his brother's actions. He told them, "There was absolutely no indication he could do something like this." He feels something must have happened to make his brother 'snap' and carry out this shooting "He was just a guy. Something happened, he snapped or something." He said. "My mother is 90 years old, lives down the street from me, we're just completely dumbfounded. You can imagine how this is affected her."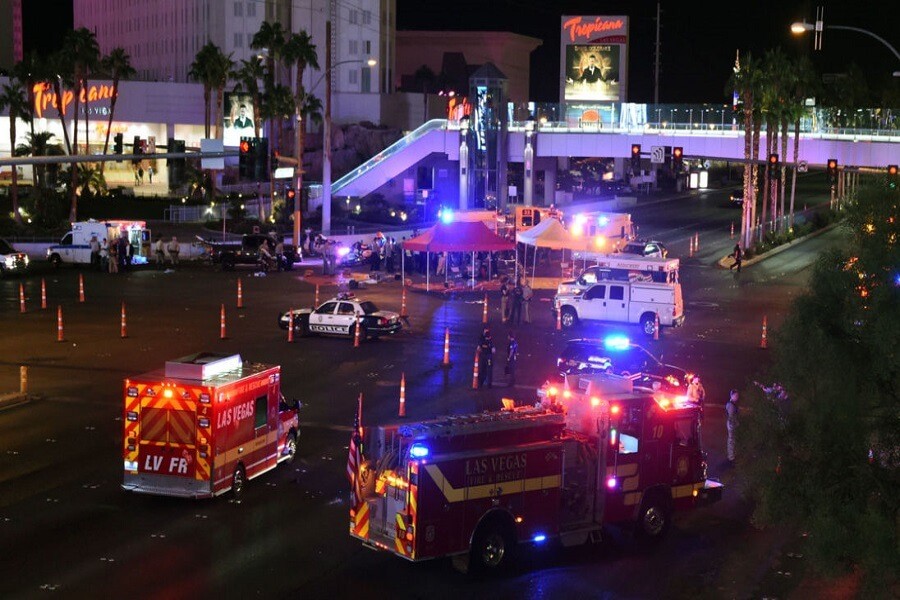 For the thousands of people in attendance and those performing at this concert, what should have been an enjoyable night of family music turned into a terrifying ordeal in a matter of minutes.  Witnesses have reported the gunfire starting just after 10 pm.
"It was an automatic weapon. Everyone just dropped to the ground and then we started running and running as fast and far until we got to a building or something." Concertgoer Amanda Mattoon told NBC Los Angeles.
Currently, there appears to be no known motive for what drove Stephen Paddock to open fire on thousands last night. Police and investigators are continuing to try and uncover the history of Paddock and what may have led him to carry out this shooting. Another witness Shaun Hoff who was attending the concert with his wife told People, "It was nuts. There were people bleeding all over the place and you could not stop to help anyone because the gunshots were still going. No one had any idea this guy was in the hotel, because it actually sounded like the shooting was getting closer and closer."
Jeffrey Swanson, professor in psychiatry and behavioral sciences at Duke University told CNN in 2015 after the Dylann Roof mass shootings in Charleston, South Carolina, "What I do know is that violent behavior — whether it's serious violence or minor violence in populations — is never just one thing. It's not a one thing problem. It's going to be an accumulation of things, kind of a whole cocktail of factors."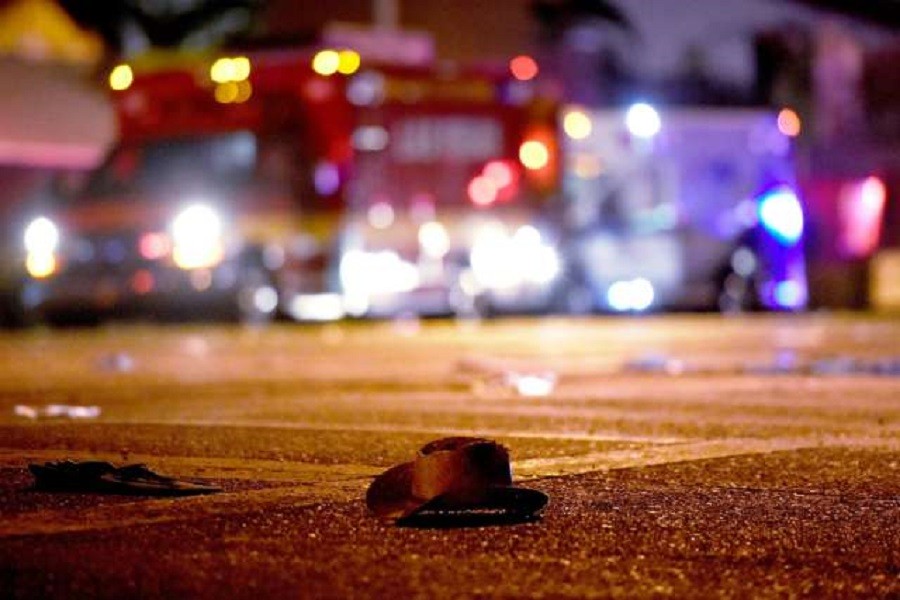 CNN reports that a total of 47 weapons have been found across the hotel room Paddock used to fire from and the multiple properties he owned.  It appeared to have been a well-planned assault with cameras set up inside the hotel room to monitor the corridor outside. Stephen Paddock fired multiple rounds of ammunition down onto festival goers for around 9-11 minutes, also shooting a security guard who was the first to locate his hotel room during the shooting.  The security guard was shot in the leg and has now been released from the hospital.
Mass Shooting Tracker, an open source crowed-funded volunteer project which collates mass shooting data, use the widely accepted definition of 'a single outburst of violence in which four or more people are shot' for categorizing shooting incidents into mass shooting events. They display a dramatic graph showing the numbers of those killed and wounded in the now 341 mass shootings they report have taken place across America in 2017.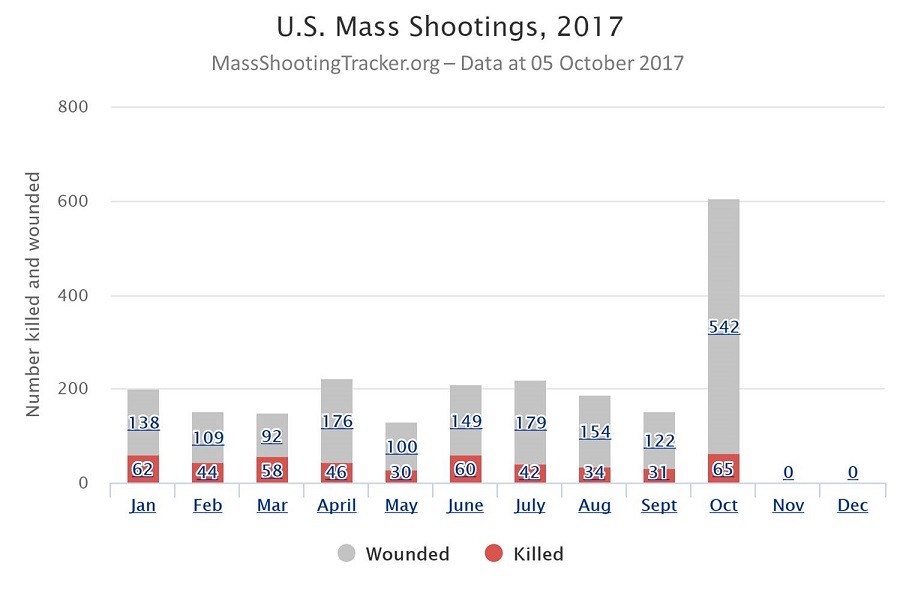 This shooting in Las Vegas makes up the majority of the data for October with a further 4 smaller mass shooting incidents also included. The mass shooting data for October already towers above others in the number of people killed and wounded. Further, the table giving details of each incident which follows this chart on their website is somber reading.
Related: Media Coverage Of Mass Murders: Should A Shooter Be Named?
Mass shooters most often fit the profile of young, white males, however, Paddock was 64-years-old and from the small city of Mesquite around 80 miles away from Las Vegas.  He had no previous issues with police indicative of violence.  Katherine Newman, a sociologist at Johns Hopkins University spoke with LiveScience in 2012, about mass shooters and common motives,  "They want to be seen as notorious, and unfortunately, there's a lot of social reinforcement for the glamour of being notorious,"  she told them. "They imagine how cool it will be when everybody knows their name … I know this sounds absurd, but in some ways, revulsion or notoriety is preferable from their point of view from anonymous and insignificant," she continued.
There have been some unconfirmed reports that the Islamic terrorist group ISIS have claimed responsibility for this shooting, claiming they converted Stephen Paddock to their cause several months ago.  It remains to be seen whether this was indeed the case or if Stephen Paddock was a lone wolf shooter acting under his own motives.
As people try to process the events of last night in Las Vegas, many lives still hang in the balance after being seriously injured. As the data from Mass Shooting Tracker highlights, unfortunately, we are seeing mass shootings take place month after month in America. It is a horrific crime and an act which can so suddenly and unexpectedly change so many lives in a matter of minutes.