I first met Kieran Patrick Kelly on 6 August 1983, when I was a young detective working at Clapham Police Station in South London and Kelly was arrested for being Drunk and Suspected Robbery.
I saw him as he was being booked into the cells. Three-quarters of an hour later police officers ran to the cell where Kelly was being detained with his friend and co-defendant, Paul McManus, and another drunken prisoner, William Boyd. The officers found that Boyd was dead and that McManus was accusing Kelly of having killed him. Shortly later Kelly was interviewed about what had happened in the cell and how Boyd had finished up dead and he readily admitted responsibility for strangling Boyd with his socks and a scarf because he was snoring.
As the detectives collected their papers and prepared to return Kelly to his new cell, he surprised them by detailing fifteen other murders that he had committed since 1953. By the time that Kelly had finished his story, the detectives left the interview room completely stunned and thinking deeply about what had just happened.
A detailed check at the Criminal Records Office (C.R.O.) at New Scotland Yard (N.S.Y.) revealed that since 1953 Kelly had been charged with, and acquitted of, eight murders, but that none of these were among the sixteen murders that he had admitted this time.
A full-scale murder enquiry was conducted and as a result, it was recommended by the Metropolitan Police that there was sufficient evidence to support sixteen further charges of murder against Kelly.
The Director of Public Prosecutions (D.P.P.), a Member of the British Cabinet and a Queens Council (one of the best qualified and most skilled lawyers in the country) and ultimately the individual responsible for instigating or discontinuing all criminal prosecutions in the country, did not dispute this fact, but recommended just five charges of murder on the grounds of cost and expediency.
Eventually, Kelly was convicted of one charge of Murder and one charge of Manslaughter and all remaining charges were left on file.

This is the last image that Kelly's victims ever saw. It is a sketch of Kelly produced for me by Heidi Kuivaniemi-Smith, a forensic and portrait artist. I had it drawn to show how Kelly managed to wander around London unnoticed. At 5'7"/ 1.70m tall and weighing less than 10 stone/ 64kg dripping wet, he was a short, slim, insignificant character that nobody, even his victims, ever saw as a threat.
He talked to each of his victims, and they walked away from him, again and again, until they ran out of platform and were standing close to the tunnel on the edge of the platform, where Kelly could stand behind them with his hands in his pockets, rotate his shoulder and push them under a 100 ton express train. At 6'6"/1.98m and 23 stone/150kg I could never go unnoticed or fail to be seen as a threat!
On 21 April 2015, I published my first book on the case, "London Underground Serial Killer". Three months later the media picked up the story and the case received coverage on a dozen TV channels and I gave 130 press interviews around the world.
As a result of this publicity another seven murders were alleged against Kelly by relatives of the victims and a few weeks ago another ten bodies were discovered in the garden of the cottage in Rathdowney, Co Laois in the Republic of Ireland, where Kelly had been born and raised, so that Kelly has been linked with a total of forty-one suspicious deaths.
There are two interesting aspects to the Kelly case:
1. I was appointed to investigate the case and act as point man for all dealings with Kelly as soon as he had committed his final murder and as a result, lived and worked very close to Kelly for more than a year. Being suspected of so many murders it was unlikely that Kelly would ever leave prison and, having murdered a fellow prisoner in the cells he was never going to be allowed to share a cell with another prisoner so that he had effectively sentenced himself to a life in solitary confinement.
As things stood then, it was very likely that although I was a police officer and effectively his worst enemy, if he ever wanted to talk to anybody ever again, it would have to be me. I talked to Kelly and tried to understand what had motivated him and caused him to act in the way that he had. It is usually five years or more after conviction that a convict is eventually interviewed by researchers.
I had the opportunity to speak to Kelly in the minutes after he murdered Boyd, whilst he was still in the heat of the crime, loaded with testosterone and adrenaline. Whilst I would never claim to be a Psychologist, I have a PhD in Sports Science and I have published in both Psychology and Neurology Journals.
2. The research shows that most serial killers select a group of people that he dislikes and wishes to remove from the world and that these usually include groups such as women, prostitutes, homosexuals, etc. Kelly appears to be unique, and possibly the first of a new group that hates more than one group. Kelly stated that he killed homosexuals, police witnesses and people who reminded him of his first victim, his best friend, Christy Smith.
He confirmed this by using a different method to kill each group of victims. He encouraged homosexual advances and took his victims somewhere where they could be alone, before producing a broken wine bottle and ramming it into their anus, simulating the sex act, until they bled out. He called together the group of vagrants that he led to deal with police witnesses. He then fed all the group vodka and orange, except the intended victim, who was fed surgical spirit or white spirit mixed with orange juice until he died.
All the other members of the group knew that the victim was being poisoned but dare not speak in fear of being beaten to death for doing so. In this way, other potential police witnesses were deterred. Finally, unable to understand why he had murdered his best friend, Kelly constantly relived the experience in an attempt to understand why he had acted in the way that he had.
Clearly, Kelly was a complex character and one that needs to be properly investigated and understood so that any other individuals targeting more than one group of potential victims may be effectively understood and stopped as soon as possible.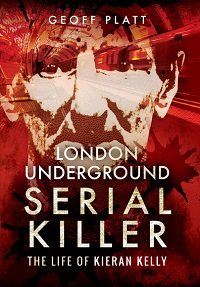 I have now published a second book about Kelly, a biography entitled, "London Underground Serial Killer: Life of Kieran Kelly".
I believe that there is scope to analyze all our protracted discussions about his life and crimes and what he believed made him act in the way that he did and to work with an appropriately qualified psychologist to publish a third book that will add to the volume of knowledge about what motivates serial killers.
---
About the Author: Geoff Platt is a former Police detective who has written two books to date on the case of The London Underground Serial Killer and Kieran Patrick Kelly. If you are interested in collaborating with Geoff Platt on his third book on Kieran Kelly, you can contact him by email at [email protected] or phone on 07768 727205 (Mobile)

Read a review of The London Underground Serial Killer by Geoff Platt here on Crime Traveller (book review by Ben Thompson)