The trial of Casey Anthony, a 22-year-old mother from Orlando, Florida held the public in fascination in a harrowing case of child murder in 2011. Portrayed as a young girl who loved to party with no sense of responsibility as a mother, her image was that of a cold-hearted selfish individual who callously murdered her own child in order to live a carefree life.
With no solid evidence against Anthony however, her case was circumstantial but it was strong enough to convince the general public backed by a media frenzy. Now the Telegraph reports that Judge Belbin Perry Jr who presided over that trial has revealed it is his opinion that Casey Anthony may indeed have killed her daughter, 2-year-old Caylee Anthony however, she may have killed the young child by accident when trying to use chloroform to keep her quiet and subdued.
"The most logical thing that occurred, in my eyesight, based on everything I know about the case was that (Ms Anthony) did not intentionally kill her daughter. I think upon the evidence, the most logical thing that happened was that she tried to knock her daughter out by use of chloroform."

– Retired Judge Belvin Perry Jr
Casey Anthony was a sociable girl in July 2008 who enjoyed nights out and the finer things in life when she could get them. Her 2-year-old daughter Caylee spent a great deal of time with her loving grandparents as a result, but in July 2008 these visits stopped and Casey Anthony's mother became suspicious of just where her granddaughter was. Having not seen the child for weeks and various excuses being given by her daughter, she confronted Casey and demanded to know what was going on.
She was told then that Caylee, her beloved granddaughter, had been kidnapped by her nanny who looked after Caylee during the day while Casey was at work. She hadn't reported the kidnapping she said, as she was trying to find her daughter herself.
Over those coming weeks instead of trying to find her missing daughter, Casey Anthony showed no interest in her welfare and no concern for her whereabouts judging by the continued parties and shopping trips she spent her time attending. After 31 days Cindy Anthony, Casey Anthony's mother, reported her granddaughter missing to the police.
Her daughter's skeleton was found in woods nearby the family's home five months later on 11 December 2008. This little girl had clearly suffered. She had duct tape still visible around her nose and mouth area. Casey Anthony was arrested for murder when a search of her car revealed traces of chloroform in the boot along with forensic evidence suggesting a decomposing body had been in that car for a period.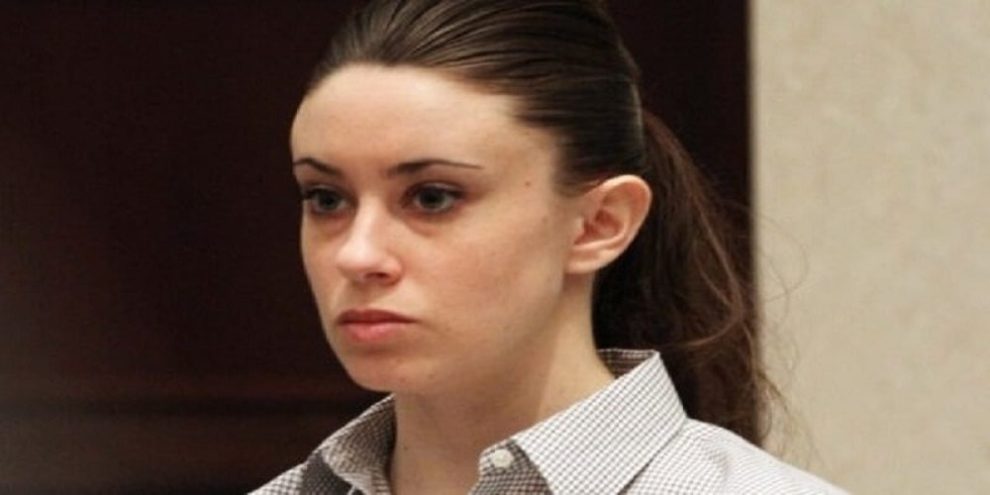 Once the case reached trial in May 2011, Casey Anthony's defense announced a remarkable story. Her daughter had not been kidnapped, her defense lawyers argued, and the nanny did not even exist. Instead, Caylee Anthony drowned by accident in the family swimming pool on 16 June 2008. Furthermore, her father, George Anthony, had found the little girl and disposed of her body rather than admit the accident telling Casey Anthony never to tell anybody the truth.
"How in the world can a mother wait 30 days before ever reporting her child missing? That's insane, that's bizarre… The answer is actually relatively simple. She never was missing." – Defence Lawyer Jose Baez
Casey Anthony said she had been sexually abused as a child by her father and had been conditioned as a result to never defy him. Her father denied all allegations against him and no evidence of child abuse was brought forward.
Searches on Anthony's computer revealed she had researched how to use the sedative chloroform in the weeks prior to her daughter's disappearance alongside searches for 'foolproof suffocation'. With evidence of chloroform found in her car, all roads point to her carrying out what she had learned.
Anthony wouldn't be the first mother to drug her child in order to quieten them down. A case in Hull, England saw 4-year-old Poppy Widdison drugged with sedatives by her mother who had been regularly feeding her daughter the 'blue smarties' to allow her to focus on her new relationship with John Rytting, a known drug dealer. Little Poppy was found unresponsive at her home in June 2013 and died a short time later. Her post-mortem revealed traces of a cocktail of drugs in her system including ketamine and diazepam. Both Poppy's mother Michala Pyke (38) and her boyfriend John Rytting (40) were convicted of serious child cruelty offenses in December 2016, both receiving jail sentences of 13 years.
Research published in 2010 using data from the US National Poison Data System found almost 1'500 cases of parental abuse through giving prescription drugs to children between 2000 and 2008, with more than 50% of these cases involving a sedative resulting in the death of 18 children. The motives, according to Dr. Shan Yin, the author of the study published in the Journal of Pediatrics, included punishment, amusement and stressed-out parents simply looking for a break from childcare.
In her 2011 trial, the prosecution maintained that Casey Anthony had suffocated her daughter to free her from parental responsibility and give her the freedom to live the life she wanted without a young child to look after. With no hard evidence against Anthony and the remains of little Caylee to decomposed for forensic evidence, the jury had only theory and the strength of the attorney's arguments to go on.
On 5 July 2011, the jury returned a verdict of not guilty of first-degree murder, aggravated child abuse, and aggravated manslaughter, to the shock of the public who had already decided Casey Anthony was guilty of murder. She was found guilty of providing false information to law enforcement. The difficulty the jury had it appears was being unsure of Caylee Anthony's exact cause of death and the motive of Casey Anthony.
Casey Anthony was sentenced to four years behind bars. Taking into account the time she had already served and she was released from prison a week later.
Casey Anthony continues to protest her innocence claiming she did not kill her daughter. In November 2022, a three-part docuseries available on Peacock called 'Casey Anthony: Where the Truth Lies' was aired. For the first time, Casey gives an interview about her daughter Caylee and gives her version of events.
I spent the last 10 years making sure that I knew who I was, that I started to cope with this loss and that I had something to say to make my daughter proud, but also to honor her properly, and this is part of that." –

Casey Anthony