In 2016, Lonnie Franklin Jr, nicknamed the Grim Sleeper, was convicted of serial murder in Los Angeles, California. With murders committed between 1985 to 2010 the true number of his victims remains unknown.
Arrested in July 2010, it took six years to build a case against Franklin. When he finally got to trial, he was unanimously found guilty of ten murders and one attempted murder with death penalty verdicts following. The Grim Sleeper's reign of terror has come to an end and Lonnie Franklin faces spending the rest of his natural life on death row.
Well-known community member Lonnie Franklin Jr lived in a low-income rundown suburb of Los Angeles and shocked friends and neighbors when arrested as the Grim Sleeper.
Convicted of nine murders and one attempted murder, this is a killer who has been operating for over 25 years and is suspected of many more killings.
How did one man get away with a series of brutal murders on his own doorstep for so long?
Background
Lonnie Franklin Jr is known to have grown up in South Central Los Angeles. He served a number of years in the US Army, leaving the service in 1975. Since then Franklin has held down a variety of jobs including a garbage collector for the Los Angeles Department of Sanitation, a role he was employed in at the time of his killings.
At the time of his arrest, he had retired and was married with two children. He was well-known in his neighborhood as a friendly and helpful guy who often used his mechanic skills to fix people's cars for them.
Franklin was known to police with a criminal record dating back to 1989, consisting of two charges of possession of stolen property in 1993 and 2003, one charge of misdemeanor assault in 1999, and one of misdemeanor battery in 1997. Franklin served time in prison for one of the stolen property charges, but was arrested on other charges several times in his life; his first arrest was for auto theft in 1969 when he was 16, but he was also arrested for burglary and firearm offenses.
An Emerging Serial Killer
In the 1980s, following the deaths of several women in south Los Angeles, California, community members formed the "Black Coalition Fighting Back Serial Murders". The group pressured police into setting up a task force and into acknowledging the deaths as serial killings. The coalition launched a media campaign and set a monetary reward aiming to capture the killer. The joint Los Angeles County Sheriff's Department-LAPD investigation determined that the crimes were committed by a single person labeled the "Southside Slayer". Their results were announced to the public on 23 September 1985.
According to investigators, evidence was found suggesting that several serial killers were murdering women in south Los Angeles. Louis Craine committed at least two of the Southside Slayer murders, and Michael Hughes, Daniel Lee Siebert, and Ivan Hill at least one each.
In May 2007, the murder of Janecia Peters, 25, was linked through DNA analysis to at least 11 unsolved murders in Los Angeles, the first of which occurred in 1985. This same year, in secrecy, the LAPD formed the "800 Task Force," composed of six detectives and overseen by the Robbery-Homicide Unit. This unit remained in secrecy until LA Weekly reported on their existence.
No official statements were made regarding the operation of a serial killer in the area at this time until September 2008, when Los Angeles officials announced that they were offering a $500,000 reward to help catch the killer. Following this announcement, on November 1, the case was featured on the Fox program America's Most Wanted.
On 25 February 2009, Police Chief Bratton addressed the press for the first time regarding the case, at which time the police formally gave the killer the "Grim Sleeper" nickname chosen by L.A. Weekly. Bratton also released a 911 call from the 1980s in which a man reported seeing a body being dumped by the Grim Sleeper, giving a detailed description and license plate number of a van connected with the now-closed Cosmopolitan Church.
In March 2009, reporter Christine Pelisek did an extensive interview with Enietra Washington, the sole survivor of the Grim Sleeper's attacks. She described him as "a black man in his early 30s…He looked neat. Tidy. Kind of geeky. He wore a black polo shirt tucked into khaki trousers." She also described the interior and exterior of his vehicle.
A Profile of the Grim Sleeper
The nickname of the Grim Sleeper surfaced due to a lull in his crimes between 1988 and 2002, although prosecutors now believe he did continue to kill during this period but his victims may never be found. This killer was profiled as a male (based on witness accounts, the sexual element of the crimes and the DNA found at both the crime scenes), African-American (as serial killers tend to kill within the same ethnic group), with an age range of 45-55 years old.
He was believed to be a local resident to the area of the murders and specifically living within 10 miles of the killings, and/or a worker in the southern Los Angeles area. Due to the violent nature of his crimes, it was believed he would have a criminal record for assault. With regards to his personality, he may have low self-esteem or lack in confidence and the act of shooting his victims in the chest provides him with the power he craves.
Victims
The known victims of the Grim Sleeper are all women, and all but one was African-American. However, there is one suspected male victim, Thomas Steele, 36 who is thought to have been a friend of another victim or possibly someone who discovered the killer's identity and was silenced.
The names of these known victims are; Deborah Jackson, aged 29 who was shot on 10 August 1985, Henrietta Wright, aged 34 who was shot on 12 August 1986, Barbara Ware, aged 23, shot and killed on 10 January 1987, Bernita Sparks was 26-years-old when she was shot on 15 April 1987, Mary Lowe aged 26 murdered on 1 November 1987, Lachrica Jefferson, aged 22 died on 30 January 1988.
Alice Monique Alexander was 18-years-old when she was killed on 11 September 1988, Princess Berthomieux was just 15-years-old and died on 19 March 2002, Valerie McCorvey was 35-years-old, 11 July 2003 and the final victim was Janecia Peters, aged 25-years-old who was killed on 1 January 2007.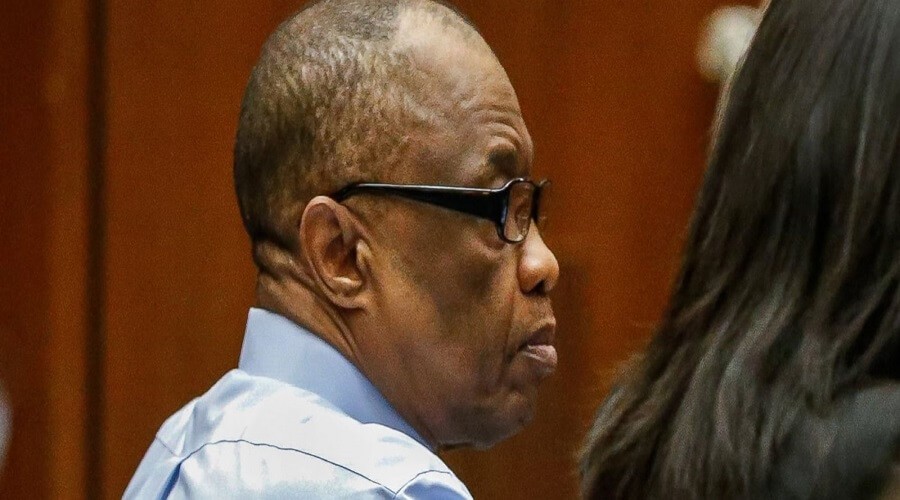 Arrest and Trial
On 7 July 2010, the Los Angeles Times reported that an arrest had been made. Police had found no exact match between DNA found at the crime scenes and any of the profiles in California's DNA profile database. As a result, they searched the database for stored profiles that demonstrated sufficient similarity to allow police to infer a familial relationship. They found similar DNA belonging to Franklin's son, Christopher, who had been convicted of a felony weapons charge.
In order to gather Lonnie Franklin Jr's DNA profile, police went undercover at a local restaurant pretending to be waiters in order to collect Franklin's used plates and cutlery. This identification was used to arrest Franklin after his DNA was deemed a match with saliva found on the victims.
On 3 November 2011, Reuters reported that the police were considering Lonnie David Franklin as a suspect in six more slayings of additional female victims. The police were investigating two of the six as potential victims killed during the 14-year lapse between an initial spate of Grim Sleeper murders that ended in 1988 and several more that began in 2002.
Of the remaining four victims, two bodies were discovered in the 1980s and two were reported missing in 2005 but the remains of the other two were never found, police said. Detectives said they linked Franklin to the six additional killings after reviewing hundreds of old case files and seeking the public's help in identifying a collection of 180 photographs of women and girls that were found in his possession.
A number of further murders were raised during the penalty phase of Franklin's trial which prosecutors believed he was also responsible for, however the decision was made not charge him with these further murders due to the risk of these delaying his trial even further, which had already taken 6 years, from his arrest in 2010, to bring into court.
Evidence which was presented against him during his trial included a gun found inside the garage of Franklin's house during his arrest. This was found to be the same gun which had killed both Sharon Dismuke in 1984, and Janecia Peters in 2007.
There is one known survivor of the Grim Sleeper. Enietra Washington testified in court that she accepted a lift from Lonnie Franklin in his orange Ford Pinto. Frankin shot her in the chest and as she lost consciousness, sexually assaulted her and took photos of her as she remembered seeing the flash from a Polaroid camera.
A photo of Enietra Washington clearly injured was found inside Franklin's garage alongside photos of many other women, some in similar states of distress. Enietra Washington identified Lonnie Franklin in court as the man who had attacked her and left her for dead almost 30 years earlier in 1988. She would be the eleventh victim.
Lonnie Franklin Jr was 63 by the time he was brought to trial for these murder charges. On 5 May 2016, after nearly three months of trial and a day and a half of jury deliberation, Lonnie David Franklin was convicted of 10 counts of murder and one count of attempted murder. On 6 June 2016, a Los Angeles County jury sentenced the serial killer to death. On 10 August 2016, Judge Kathleen Kennedy gave her final verdict for Lonnie Franklin agreeing with the death penalty verdict decided on by jurors 3 months ago. She rejected the notions for a new trial and that a sentence of death would be unconstitutional. She said, "I can't think of anyone I've encountered in all my years in the criminal justice system that has committed the monstrous crimes that you have."
It is questionable, however, whether 63-year-old Lonnie Franklin will ever be executed. In California, only 13 people have been put to death since 1978, and some 750 convicted killers still remain on death row. The average time spent on death row is almost 18 years. California over the last 2 years has been in the grips of a row over the lethal injection drugs used and as a result, executions have been halted with no execution taking place since 2006.
The state has proposed a new one-drug lethal injection protocol with the approval process still ongoing. Taking all into account Lonnie Franklin Jr may die in prison before an execution date is set. What is for certain is that the Grim Sleeper will never be released and his killing has now finally come to an end.
On March 28, 2020, now 67-years-old, Lonnie Franklin Jr was found dead in his prison cell at San Quentin State Prison.
---
This article uses material from the "Grim Sleeper" article at wikipedia.org and the "Lonnie David Franklin" article at criminalminds.wikia and is licensed under CC-BY-SA.