The development of specialized criminal profiling at the FBI Behavioural Science Unit in Quantico, Virginia has been a milestone in the history of crime-fighting. Created by FBI Special Agents Robert Ressler and his colleagues John Douglas and Roy Hazelwood in the 1970s, the application of psychology to serial violent offenders has been ground-breaking.
These men have analyzed, hunted, and interviewed some of the most disordered and brutal serial killers in history. They have opened up their minds and gained a startling insight into their personalities and motivations. Today all three men have retired from the FBI but they will be forever haunted by what they have seen during their careers.
How do you catch a serial killer? The following list is a collection of the criminal profiling books these experienced profilers have written to share their knowledge. They are a shocking yet gripping insider look at disturbed minds, heinous crimes against others, and the ongoing battle to stop them.
Mindhunter: Inside the FBI's Elite Serial Crime Unit
With a new edition published in October 2017, Mindhunter is in my opinion, the best criminal profiling book on the market. Written by now-retired FBI special agent John Douglas, he has collated his most interesting and challenging cases. He gives a unique insight into the FBI investigations and methods used to catch some of the most notorious criminals in American history. He explains how in order to catch them, he had to go deep inside their minds to understand how they think.
Case studies include Jeffrey Dahmer, Charles Manson, Ted Bundy, and the Atlanta child murders. This is a disturbing read with detailed accounts of some shuddersome crimes and is not for the sensitive reader.
A book that goes hand in hand with Robert Ressler's Whoever Fights Monsters, it is an intense yet fascinating insight into the operations of the FBI Behavioural Science Unit. Mindhunter also highlights the psychological impact on those trying to catch serial killers and how they deal with the appalling things they have witnessed as a result. If you have an interest in criminal psychology, the complexities of serial killers, and the criminal mind, this book is a must-read.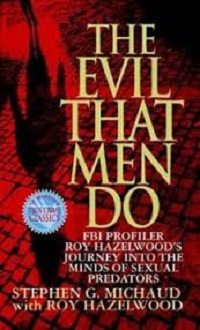 The Evil That Men Do: FBI Profiler Roy Hazelwood's Journey into the Minds of Sexual Predators
Roy Hazelwood is a 22-year veteran of the FBI and has become an international expert on serial sexual offenders. He has chased down some of the world's worst criminals and explored the minds of the most ruthless sexual predators. The Evil That Men Do probes the minds of these criminals and includes case studies on the Lonely Heart Killer, the "Ken and Barbie" murders of killer couple Paul Bernardo and Karla Homolka, and the harrowing Atlanta Child Murders.
Using psychological profiling, Hazelwood has tracked down some extremely dangerous individuals and learned how their disturbed minds work. A lesson and a warning for women everywhere this book provides knowledge on the different types of sex offenders and how they operate. In this book, you will also learn more about Roy Hazelwood, his career, and how he became an expert in his field. Alongside John Douglas and Robert Ressler, Hazelwood developed criminal profiling at the FBI, creating the now vital VICAP system for connecting crimes and offenders. Not a book to read alone at night with the lights dimmed, but an educational and eye-opening read for anyone interested in the psychology and motives behind sexual offenses.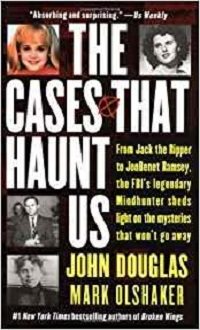 There are some criminal cases that even the FBI can't crack. The Cases That Haunt Us is a collection of crimes that have never been solved. They are crimes that have continued to play on the minds of those trying to solve them. Written by John Douglas, one of the top criminal profilers at the FBI during his career, he covers The Zodiac Killer, The JonBenet Ramsey Murder, The Lindbergh Kidnapping, and the Jack The Ripper case.
Providing a compelling insight into the facts and evidence in each case, Douglas gives the profiles of those thought to be responsible, how they have been developed, and the use of victimology and crime scene analysis. Readers are shown the methods employed to try and catch these killers and the full psychological analysis drawn from the nature of their crimes. An added feature of this book is the final chapters which discuss the advances in technology, theory, and training in criminal profiling. Douglas explores the importance of different stages of an investigation, communication with others investigating the case, and the use of psychological profiling and where it can help in a case. A gripping book on unsolved cases and the use of criminal profiling in trying to solve them.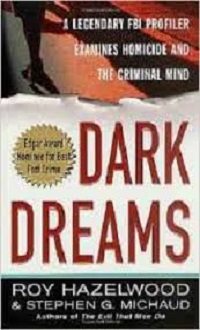 Dark Dreams: A Legendary FBI Profiler Examines Homicide and the Criminal Mind
The dark minds of serial criminals, sexual sadists, and serial killers is a dangerous place to be. In Dark Dreams, the full power of criminal profiling is revealed. A book that details many cases not well-known and not heavily publicized, profiler Roy Hazelwood demonstrates the range of deviant behaviors that law enforcement has to deal with. For those with an interest in abnormal psychology and true crime, this book will not disappoint.
It is a gruesome read with grisly details of some horrific crimes however, it successfully showcases how criminal profiling has been used and the potential of its techniques. Informative and educational case studies including Robert Leroy Anderson, Fariyon Edward Wardrip, and Christopher DiStefano help to demonstrate the different classifications of a killer the FBI have developed and how, based on those classifications, they are able to catch them.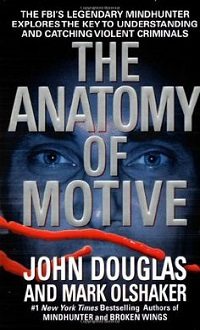 The Anatomy of Motive: The FBI's Legendary Mindhunter Explores the Key to Understanding and Catching Violent Criminals
A book with a more academic slant than some others on this list, The Anatomy of Motive looks behind the crimes to analyze what makes a person torture or kill. The factors which may be involved in the development of a serial offender and especially those who commit some of the worst crimes against others are put under the spotlight.
John Douglas examines the behaviors, motives, and personalities involved in violent sociopathic behavior covering individuals such as Lee Harvey Oswald, the sniper who assassinated President John F. Kennedy, and the "Unabomber" Theodore Kackzynksi. For students of psychology and particularly criminology and forensic psychology, this is an excellent resource for gaining an understanding of how individuals can progress and develop into violent offenders. From hijackers, bombers, poisoners, and assassins to the quiet neighbor next door who embarks on a mass shooting, the personality traits and behavioral patterns of such individuals are compared and contrasted. Outward warning signs that could be spotted before they act are also discussed in an educational book despite its shocking subject matter.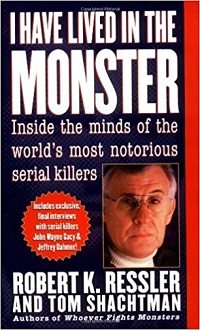 I Have Lived in the Monster: Inside the Minds of the World's Most Notorious Serial Killers
A second book from Robert Ressler following on from Whoever Fights Monsters. While not quite as gripping, few books have provided such a chilling look at disturbed minds as this one. Focusing more on Ressler's career after he left the FBI working as an independent criminal profiler, it provides a wider perspective of the psychology of serial killers and the art of criminal profiling.
One of the most interesting sections of this book is the interview transcripts. They provide a disturbing yet fascinating look at serial killers such as John Wayne Gacy and Jeffrey Dahmer through their own words. With so much written about these killers, being able to read transcripts of in-depth focused interviews from a source you can trust is a definite attraction for I Have Lived In The Monster. Once again, Robert Ressler has provided a resource as well as an excellent read for those simply interested in criminal minds, along with some conversations with serial killers which will not fail to shock you.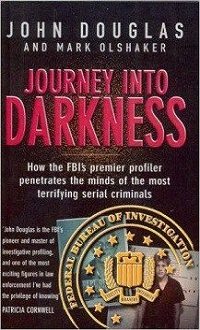 Journey Into Darkness – How the FBI's Premier Profiler Penetrates The Minds of the Most Terrifying Serial Criminals
Written in 1997, Journey Into Darkness places a new selection of brutal crimes under the spotlight. John Douglas highlights how behavioral profiling played a role in each devastating case, showcasing just how far the methodology has come since its creation in the early 1970s. Many cases covered in this book involve the murder of a child, a crime even more difficult to comprehend and as a result, this can be a harrowing read.
Other cases featured in this book include the murder of Nicole Brown Simpson and Ronald Goldman in the OJ Simpson case, the Unabomber, cult leader David Koresh and the tragic siege at Waco, Texas, and the assassination of John Lennon. Douglas offers some valuable information on how we can protect children from sexual predators as well as his own opinions on crime prevention and the American criminal justice system. A longer book that covers many areas of crime and punishment providing an additional resource to this criminal profiling text. A definite read for students in this field and true crime fans alike.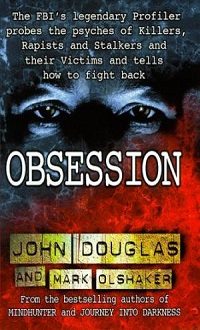 Obsession The FBI's Legendary Profiler Probes the Psyches of Killers, Rapists and Stalkers and Their Victims and Tells How to Fight Back
Another book from John Douglas and his co-writer Mark Olshaker. Written before The Cases The Haunt Us, it focuses on individuals who commit crimes out of obsessions, either with a particular person or a fantasy that they are trying to recreate.
It is a chilling book with some quite terrifying examples of stalking and the violent offender. Here John Douglas provides an insight on the impact of such crimes on the victims and their families, shifting attention toward the devastating and lasting effects such crimes have. He also explores how to spot warning signs and try to reduce the risk of becoming a victim alongside a discussion on how the criminal justice system could improve its protection and response. An enlightening book geared more toward victims than his previous books. A fascinating read into the minds of criminals and how one individual's disturbed thinking and obsessions can be extremely dangerous for another.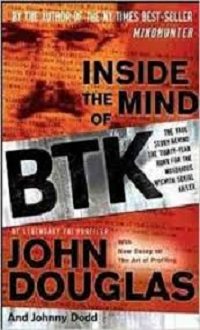 Inside the Mind of BTK: The True Story Behind the Thirty-Year Hunt for the Notorious Wichita Serial Killer
Few serial killers were as terrifying as Dennis Rader, the 'BTK' killer. A nickname he assigned to himself reflecting his preferred method of terrorizing and murdering his victims…Bind, Torture, Kill. Dennis Rader operated in Wichita, Kansas for 31 years, between 1974 and 1991, keeping the residents of the city terrified of the killer who crept into their houses and lay in wait.
In Inside the Mind of BTK, veteran FBI criminal profiler John Douglas details the hunt for Dennis Rader and his involvement in trying to catch this brutal killer. It documents the difficulties faced trying to track a serial killer who liked to torment police and news stations with letters giving details of his kills. A killer who at one time went silent for over 9 nine years before reappearing and commencing his attacks once more. Finally caught in 2005, the discovery that this individual was a quiet family man with two children highlighted we never really know the person next door and what they get up to when the lights go out.
Unlimited reading on any device, try
Kindle Unlimited from Amazon
for free.
Prefer Audiobooks?
Audible 30-Day Free Trial
with free audiobooks.
As an Amazon affiliate, Crime Traveller may earn a small commission from qualifying purchases. See our
Disclaimers page
for more information.