Many of us are narcissists. We have a sense of ourselves; we can be selfish, vain and arrogant. Few of us however, have enough traits to combine into the kind of narcissistic behaviour and extent of lack of empathy where alarm bells start to ring and danger is afoot. Freudian psychologists believe we as humans are made up of three systems of the mind, which combined give us our personality. As babies we are entirely the 'id', all the genetic parts of us in one package which later, as we learn and grow, is joined by the 'ego' and the 'superego'.
The human ego tells us who we are and what we are in the world. It is our personal identity and our individuality.
Narcissistic Behaviour and The Human Ego
The ego has been described as a mediator, an influencer and an organiser in that it is the part of us which has our internal thoughts and understandings on one side and our influences and perceptions from the outside world on the other. Our egos use this information to decide and execute our actions.
The ego is a vital part of how we function and interact in the world. A healthy ego is advantageous in helping to develop our self-respect, self-esteem, independent thoughts and actions and our opinions and beliefs. We all have an ego, but for some this aspect of our minds can be more dominant than for others.
For some, the ego can become the driving force to their behaviour and display particular traits which, at extremes, can prove to be dangerous.
Related: Narcissistic Rage and Cold Blooded Murder
Narcissistic Personality Disorder (NPD) is a condition where a collection of personality traits associated with the ego have become oppressive and the more traits that are present at the same time, the higher up the narcissist scale a person becomes.
Narcissistic Personality Traits
The term 'narcissism' comes from Narcissis in Greek mythology who was a man who became obsessed with himself. He was shown to a pool of water by Nemesis and upon seeing himself for the first time he fell madly in love.
Unaware it was in fact his own reflection, he was unable to leave the image of such beauty and he died by that pool worshipping himself. In order to be diagnosed with Narcissistic Personality Disorder, an individual must possess at least five of the nine personality traits which have been identified by psychiatrists.
Traits of a Narcissistic Personality – Infographic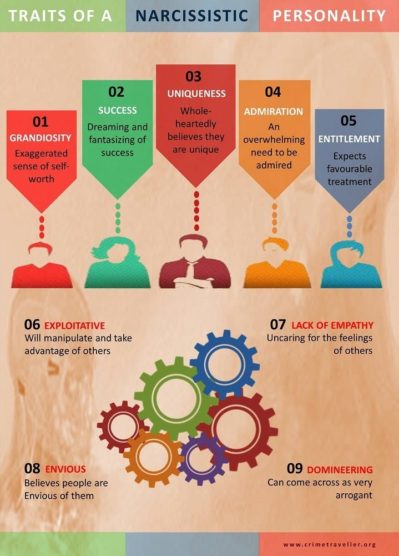 Many of us show some of these traits to various degrees and this is part of who we are as human beings. Those who show multiple traits and specifically five or more together however, are those who are truly narcissistic. Success is the driving force in all aspects of their lives; in their work, their relationships, in social circles and in their personal achievements.
Related: Pathological Narcissism and The Cult Leader
"Whoever loves becomes humble. Those who love have, so to speak, pawned a part of their narcissism." – Sigmund Freud
The Narcissist in the Real World
Lack of empathy in an individual can be a damaging force. This can often be presented as a subtle lack of caring for others and their feelings but in reality narcissists have no true feelings for others, no guilt and no remorse. In times of happiness and emotion, a narcissist can be left feeling cold and unaffected. Marriage, births, weddings or even funerals, such individuals do not feel the emotion in these life events.
Their lack of empathy means they are rarely affected by their emotions and such emotions will not influence their behaviour in given situations. This can be very useful in business or criminal environments. As they do not feel the same level of emotion nor do they care about the emotions of others, they are able to function on a much more driven and determined road than we are.
The lumps and bumps in life where we can be happy, sad, upset or angry often affecting how we feel about something or someone, how comfortable we are performing a certain task or being involved in a particular job role, are just not obstacles for those with narcissistic personalities. They can be more flexible, more pragmatic and more ruthless because feelings and emotions are never involved in the equation. This is why they can often achieve great success in life.
"Nobody can be kinder than the narcissist while you react to life in his own terms." – Elizabeth Bowen
Narcissists are great manipulators. They can spot the needs, emotions and weaknesses in those around them and use this information to their advantage very quickly with no sense of regret. They do not have a conscience in this sense because they do not hold themselves responsible for the consequences of their actions; they simply worked with the information that was available.
Related: Cult Leader David Koresh: The Rise and Fall of the Branch Davidians
A narcissist as a boss for example is likely to be forceful, bullying, arrogant and unforgiving. The effect of such a personality in a position of power can be devastating for others when they become the target of attack from such an individual. When a true narcissistic personality is challenged they can become unpredictable and dangerous, highlighting just how big their ego has become and how adversely they react when that is threatened.
To cite this article: Guy, F. (2016, May 23). Are Narcissists Dangerous? The 9 Traits of a Narcissistic Personality [Infographic]. Crime Traveller. Retrieved from https://www.crimetraveller.org/2016/05/traits-narcissist-dangerous/
Recommended Books:
The Everything Guide To Narcissistic Personality Disorder A comprehensive resource including identifying symptoms, different types of narcissists, living in and recovering from a narcissistic relationship with a parent or spouse.

Narcissists Exposed Answering every question about narcissists, revealing the inside secrets to the frustrating and crazy-making games narcissists play and reveals the ins and outs of how (and why) they do what they do.

Disarming The Narcissist How to move past the narcissist's defenses using compassionate communication. Learn how narcissists view the world, how to navigate their coping styles, and why it can be lonely being a narcissist.
Unlimited reading on any device, try Kindle Unlimited from Amazon for free
Prefer Audiobooks? Audible 30-Day Free Trial with free audiobooks