Pre-1965 the mandatory sentence for murder in the United Kingdom was death by hanging. Holloway Prison in London was one such site where these sentences were imposed and saw the last woman hanged on 13 July 1955.
Ruth Ellis was the 18th and final woman to be hanged in Britain under the now-abolished death penalty. She was charged with the premeditated and cold-blooded murder of her boyfriend, 25-year-old David Blakely, who after not giving her the attention she craved, she shot multiple times outside a drinking house in South Hill Park in London on 10 April 1955.
Arrested at the scene of the crime by an off-duty policeman, she confessed to the murder calmly. No evidence of mental illness was found and a defense of insanity could not be mounted, she was declared legally sane. Her relationship with Blakey was turbulent with violence and beatings a regular occurrence. Reports suggest Ruth Ellis suffered a miscarriage due to being punched in the stomach by Blakely after one such argument.
Holloway Prison
Holloway Prison was opened for both male and female prisoners in 1852 and became an all-female prison in 1902. Today the prison has seen a complete rebuild completed in 1985 and houses both adult and young offenders.
A well-known prison in the United Kingdom, in total five women were hanged there. The prison has a brutal history, known for its harsh regime and it soon became a feared establishment. Emily Davison, the famous suffragette who threw herself to her death under King George V's horse during the Derby spent time in Holloway prison, twice trying to take her own life before that fateful incident in 1913.
In more recent times, the prison has seen Moors murderer Myra Hindley pass through its doors in 1966. In the last 20 years, Holloway Prison has been the subject of numerous inquiries due to concerns over its treatment of prisoners and the conditions inside the prison.
The Trial and Sentencing – 20 June 1955
On 20th June 1955, Ruth Ellis stood trial at the Old Bailey in London where she pleaded not guilty to the charge of murder. She was keen to tell her side of the story and give the reasons why she took the actions she did. Her relationship with David Blakely was not the only relationship in her life. After having a son at age 17 whose father was a soldier, she later married dentist George Ellis whom she had a daughter with.
After separating from George, she was also in a relationship with Desmond Cussen, a former RAF pilot who was now an accountant based in London. Cussen was an older man who was keen to have Ruth to himself. Incidentally, he was the man who provided the gun, the training on its use, and the car ride that fateful evening where she shot Blakely. Ruth Ellis made no attempt to excuse her crime or her intentions that evening. After a deliberation of just 23 minutes, the jury returned a guilty verdict and Ruth Ellis was sentenced to death.
The Hanging at Holloway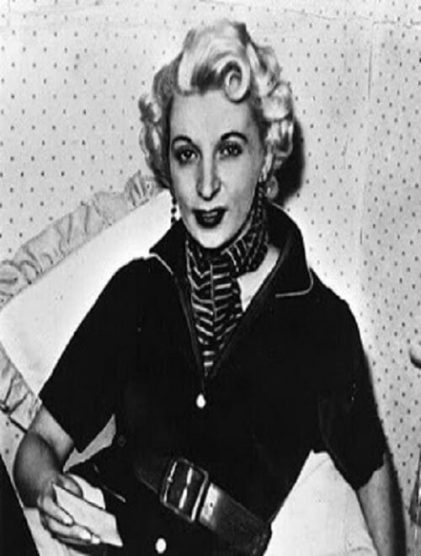 Three weeks and two days later, despite outcries, protests, and pleas for clemency from the public, she was hanged on 13 July 1955 aged 28 years old.
The evening before her hanging the police were called to deal with the hundreds of people who had gathered outside of Holloway Prison chanting in support of Ruth Ellis. A petition had been signed and handed to the relevant authorities pleading for her life to be spared but it made no difference.
At the exact time of her hanging a crowd quietly gathered outside the gates of Holloway Prison and stood in silence waiting for the official notice of her death to appear. Her guilt over the murder was never in question however, there has been much controversy over the decision to hang her for the crime. Ruth Ellis was not your standard murderer. She was a young attractive woman, a mother of two children.
"An eye for an eye, a tooth for a tooth, I will hang." – Ruth Ellis
Her openness regarding her crime, her reasons behind it, lack of hysterics and drama throughout her trial and sentencing all earned her a level of respect from the general public. Provocation from the deceased appeared to be the motive in this crime, which in today's world would be termed a 'crime of passion'.
A Public Response
Britain was outraged at her hanging. An abused and beaten woman who had taken her revenge on a brutal man, while guilty of murder should not have lost her life as punishment. Furthermore, the issue of miscarriages of justice resulting in an innocent person losing their life was becoming a concern for more and more people. A campaign to abolish capital punishment was soon off the ground and gained huge support with over 33'000 people joining the fight in its initial months.
In March 1957 the law came into power that would allow the defense of diminished responsibility (Homicide Act). This undoubtedly would have spared the life of Ruth Ellis had it been introduced before her trial. On 13th August 1964, two men by the names of Gwynne Evans and Peter Allen became the last people to be executed in Britain before the death penalty was abolished.
After the suspension of capital punishment under the Murder (Abolition of Death Penalty) Act passed in 1965, the murder rate and the effect of such abolishment were monitored before a final decision was made in 1969.
The Home Secretary in 1969, James Callaghan, stated: ". . . those figures show that the murder rate is not soaring as a result of the abolition of capital punishment but remains remarkably stable."
Despite this vote to retain the suspension for murder cases, the death penalty was still in place for treason and piracy in 1998 with the gallows in Wandsworth Prison in South West London remaining in operation. In 1999 this penalty was formally abolished, ending all capital punishment in the United Kingdom for good.