"Dark Valleys collects together more than a century of murders that took place in and around the valleys of South Wales. These horrific crimes shocked not only Wales but also made national headlines. Although treated with compassion and sensitivity by the Welsh author and crime historian Gary M. Dobbs, these true stories are often gruesome and harrowing, with no details spared in chronicling what were truly terrible events."
In an interesting journey starting back in the Victorian era, author Gary Dobbs explores the criminal history of the South Wales Valleys between 1845 and 2016. From swift punishments where conviction, sentencing, and hanging would take place within days through to modern-day where hanging is no longer, and long prison terms are the norm. The cases covered here include the crime of murder, the ultimate harm one individual can do to another.
"Join me in this journey through these dark valleys as we uncover these insalubrious slices of history, all the while aware that these are true cases, involving real people. There is no attempt to sensationalise, to dwell on the lurid details, but rather a respectful telling of the way it was."
Dark Valleys traces the criminal history of the South Wales Valleys from when forensic science was not yet established in 1845, to when it is now one of the most crucial parts of crime investigation in 2016. Starting with the case of Thomas Thomas, otherwise known as Thomas Twice for obvious reasons, who was found guilty of the murder of butter merchant David Lewis in 1844.
Thomas was hanged by William Calcraft, Britain's most formidable hangman who liked to make a show out of his executions to 'entertain' the crowd who were eagerly watching the criminal being put to his death.
Welsh author Gary Dobbs has an engaging writing style making this book very enjoyable to read. As each chapter is digested, the next moves along the timeline taking the reader into a new case where facts are presented along with an exploration of the motivations behind these crimes and the societal norms which surround them. With thirteen chapters each dealing with a significant crime in South Wales and a final summary chapter, Dark Valleys is satisfying reading, leaving a clear impression and understanding of the criminal history and the changing times across this era.
No book covering crime in South Wales history would be complete without space given to the crimes and disturbed behaviors of Harold Jones, covered in Chapter 9 – A Desire To Kill. At just 15-years-old Harold Jones went on trial for the murder of 8-year-old Freda Burnell on 21 June 1921 and was found not guilty, only to be arrested again just two weeks later for the killing of 11-year-old Florence Little whose body was in the attic of his home.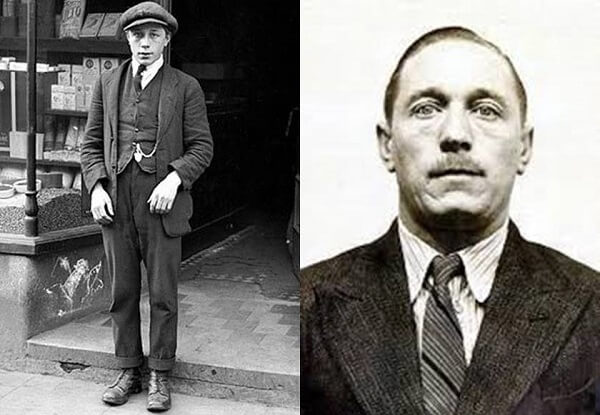 One week before this trial was due to start, Harold Jones confessed to both the murder of Florence Little and the murder of Freda Burnell. Soon to be 16-years-old and eligible for the death penalty, a confession and quick trial before this birthday ensured an escape from the gallows.
"I Harold Jones wilfully and deliberately murdered Freda Burnell in Mr Mortimer's warehours on 5th February 1921. I also do confess that I wilfully and deliberately murdered Florence Little on 8th July, causing her to die without preparation to meet God. The reason for doing so being the desire to kill." – Harold Jones 1921 confession
There have been a number of other murders in England and Wales that many feel could be down to Harold Jones who was released from prison in 1941. Most notably local author Neil Milkins has written about the unsolved murder of Muriel Drinkwater in 1946 in Swansea in Wales and the London 'Jack the Stripper' murders where six women were killed between 1964 and 1965.
A second Jones is looked at in Chapter 12 – The Wrong Man, but this case is the opposite to that of child killer Harold Jones. Jonathan Jones was innocent yet sentenced to life for the murder of his girlfriend's parents Harry and Megan Tooze.
Both Harry and Megan Tooze were shot in the head while at their isolated farmhouse in Llanharry meadow on 26 July 1993. Jonathan Jones had gone to check on the couple from Kent at the request of his fiancé, their daughter Cheryl after she became concerned that she could not contact them. Upon his arrival, he was met by police who had discovered the bodies after being called in by a neighbor. Police thought the reaction of Jones to the news of the murders was 'odd', despite the long five-hour drive through the night he had just undertaken to arrive at the farmhouse.
"I am bound to record that the verdict caused me some surprise. There were undoubtedly many suspicious features about Jones's case, but at the same time many items of evidence upon which the prosecution relied as pointers to guilt had fallen decidedly flat." – Judge Rougier in a letter to Home Secretary Michael Howard on the case of Jonathan Jones
Police theorized Jones had driven from Kent to Wales that morning and carried out the murders and then back to Kent where he told Cheryl he had been looking for office accommodation for his work. They believed Jones had killed his fiancée's parents under the knowledge that Cheryl was the sole beneficiary of their estate. He was charged with double murder five months later. Jonathan Jones was found guilty and sentenced to prison, for the conviction to be overturned in 1996 after being deemed unsafe. The murders of Harry and Megan Tooze, as a result, remains unsolved.
Related: Britain's Most Notorious Prisoners
In writing Dark Valleys, Gary Dobbs has not merely found news articles and repeated the details; he has made an effort to delve into each case and contact those who hold information on it. This includes the South Wales Police, fellow authors and Cardiff Library alongside the news media of the time to combine the facts of each case and produce accurate, readable and enjoyable narrative on each one.
This is a book which will interest not only those keen to learn more about the criminal past of the South Wales Valleys but anyone with interest in true crime, historical criminal cases and just how much our world has changed over the last 160 years. A gentle but gripping walk through history, Dark Valleys takes you back in time before gradually bringing you forward and into present-day ensuring the cases you read are not ones you will quickly forget.
'Dark Valleys' by Gary Dobbs is published by Pen & Sword Books and is available at their website.
[wp-review id="13646″]
Unlimited reading on any device, try Kindle Unlimited from Amazon for free
Prefer Audiobooks? Audible 30-Day Free Trial with free audiobooks