"Exploring Ted Bundy's life from cradle to grave in exhaustive detail with an unprecedented 400 images and numerous maps all organized in chronological order. All primary victims are dealt with at depth along with a presentation of the first rigorously researched neurobehavioral model of this serial killer."
Serial killer Ted Bundy was a handsome and charming man at first glance, but he was a man who harbored dark thoughts and sinister intentions. A man who just before his execution, after receiving three death sentences for his crimes, confessed to the murder of 30 other women. A confession which confirmed suspicions that he was responsible for many unsolved murders across state lines in America.
The Life Of Ted Bundy
Theodore Robert Bundy was born in November 1946 and his ability to charm and engage socially and academically while equally being capable of cruel and brutal crimes against women has earned him particular attention. Operating within the 1970's, Ted Bundy changed his appearance easily and efficiently, he planned and researched his crime scenes before carrying out his murders and rarely left forensic evidence behind.
Bundy would use his appearance and friendly demeanor to lure his victims by pretending he was unwell or had an injury.  Feeling sorry for this handsome charming stranger, unsuspecting women would walk straight into his trap. In other instances, he would pick an apartment, break in and murder the occupants while they slept.
His story has made more headlines due to his dramatic escape in 1977 where he ran from a courthouse after claiming to be visiting the library to research his case. This escape enabled Ted Bundy to carry out a further three brutal murders before he was recaptured.  As a serial killer and as an individual, Ted Bundy has attracted a great deal of attention from those studying the criminal mind.
A Visual Timeline
Dr. Robert Dielenberg is an author who has developed a personal interest in Ted Bundy and his crimes into a large-scale project to map his life from 'cradle to grave'.
Ted Bundy: A Visual Timeline is the result of this labor-intensive project and it is impressive.  This is a book which focuses on true crime but is not a book which would sit within your standard true crime section.
It is an academic study of the life of an individual whose behaviors have shocked and appalled the world. Described as 'intended for mid to high-level university students studying criminology and forensic psychology', this is over 300 pages of sequential examination of the childhood, teenage and adult years of Ted Bundy, alongside a detailed analysis of his behaviors, his brain structures, and his mind.
This book has striven for accuracy where Robert Dielenberg has taken time to collate and note all references, leaving a clear trail of where his information came from.  It is a goldmine for the eager criminology student and a shining example of good practice.  A unique approach has been taken with a focus on visuals, ensuring facts are illustrated and the reader is left in no doubt that this is not a fictional story.
"…comprehensive chronology of the most important events in Ted's life, and if an image is found that links to that event, it is added to the story."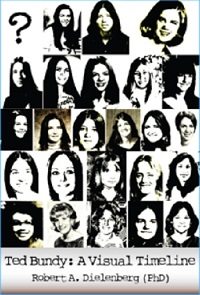 Robert Dielenberg has fully explained the science behind much of the terminology associated with Ted Bundy; the standard model of psychopathy, neurobehavioural models and the significance of the prefrontal cortex of the brain within these models.  References are clear and welcome ensuring a clear path to the source of such information.
Detailed narrative on complex notions is populated with quotes throughout the book from those who have assessed Ted Bundy and examined his psychology to quotes from Ted Bundy himself reflecting on his life.  The text is technical with a distinct academic flair.  It is balanced and reasoned with short paragraphs and excellent grammar making this book enjoyable to read.
For some, this book may go into too much depth and have too many discussions on the development, the psychology and the motives that drove Ted Bundy.  It is extensive and it is detailed and Robert Dielenberg has not held back on drawing conclusions from the evidence he has gathered.  However, Ted Bundy was a complex character and the current research and evidence behind the criminal mind is not a topic which can be thoroughly discussed in a few pages. If you are looking for a quick read and a simple overview of this serial killer and his crimes you will be overwhelmed by Ted Bundy: A Visual Timeline.
Substance abuse, addiction and lack of empathy are discussed in early chapters, exploring how these affected Ted Bundy and what place they held in his life and his behavior.  The many victims of Ted Bundy have also been documented with a comprehensive review.
The bulk of Ted Bundy: A Visual Timeline is indeed just that.  Chapter after chapter of detailed timelines chronicling his childhood, his teenage years, his adulthood, his arrests, escape and execution.
Significant events within each period are highlighted by date and illustrated with images of family members, family homes, schools, maps and relevant locations, with each image labeled and its source credited.  The arrest and trials of other serial killers also find their way into these timelines on occasion, highlighting their place within Ted Bundy's life.  The influence of serial killers is always a factor within a serial murderer and Ted Bundy was no exception.
I see this book as an extensive reference and resource on Ted Bundy.  While there have been many studies on individual serial killers, many are research papers limited to a few pages or books with little academic foundations.  Here, where the author describes his book as the most comprehensive writing on Ted Bundy, he is entirely accurate.
Furthermore, this is work that not only provides great insight into Ted Bundy but provides valuable text on serial killers, in general, making it an excellent extended resource.  I would highly recommend this book for those looking to gain an understanding of Ted Bundy from an evidence-based perspective.
For students studying psychology and criminology, this book provides an accurate, thorough and detailed look at one of the most fascinating serial killers in modern times and would be a valuable asset to their studies.
You can purchase a copy of Ted Bundy: A Visual Timeline from the author's website.
[wp-review id="5799″]
Related Books:
The Encyclopedia of Serial Killers Accurate, unglamorized information on hundreds of serial murder cases including the Sniper Killers; the Green River Killer; Harold Shipman and Aileen Wuornos.

Familicidal Hearts: The Emotional Styles of 211 Killers Neil Websdale uncovers the stories behind 196 male and 15 female perpetrators of familicide exploring the roles of shame, rage, and fear in the lives and crimes of the killers.

Journey Into Darkness The world's top pioneer and expert on criminal profiling delve further into the criminal mind in a range of chilling cases involving rape, arson, child molestation, and murder.
Unlimited reading on any device, try Kindle Unlimited from Amazon for free
Prefer Audiobooks? Audible 30-Day Free Trial with free audiobooks