The first in a two-part series written by true crime writer Clarence Walker Jr taking a detailed look at the incredible story of Houston's Northside 'Sniper'. Click here to read Part Two
UPDATE (January, 2022): The story of the Houston Northside Sniper researched and written by Houston writer Clarence Walker is gaining attention. Writer, producer and director Peter Cambor, who you may know from his acting role in the ever-popular crime TV show NCIS, read this article on Crime Traveller and contacted Clarence directly wanting to know more. Keep an eye out for some exciting developments from Peter's production company District33, which he co-founded in 2017, working with Clarence on this story!

If that's not enough, check out TVone on Monday 24 January for Season 2 of Sins of the City. The new series that looks at true crimes that shook America's big cities is kicking off with "Houston", an episode examining the Houston Northside Sniper Red Batiste and his bank robbery crew featuring Clarence Walker himself.
---
Houston in Texas is a city that has been known for a long list of achievements; the world's capital of space exploration, air conditioning and international energy, construction, oil and gas; home to the largest sports arenas. Houston, at one time, even led the highest numbers of capital punishment worldwide.
But there is more.
According to the FBI, a few bad actors in the city, among the near three million citizens, gave Houston another distinctive name but notorious in nature: the armored car robbery capital of the world.
And for good reasons.
A series of deadly armored car robberies plagued the city of H-town as security guards tasked with couriering the money were either badly wounded or ruthlessly executed by a sophisticated crew of masked, heartless criminals inbred with the ingenious ability and fearlessness that led them to ambush the couriers in broad daylight. Just last year in 2019, the FBI reported that half of armored car robberies in the United States alone happened in Houston.
For example, between 2013 and 2016, FBI records show there were at least 30 attempted armored car robberies in Harris County in Texas with an astounding high of 11 attempts just in 2013. One robbery crew stole over $4 million dollars from an armored car heist at the University of Houston.
"You see groups of four, five and sometimes as much as six or eight," said Sgt. David Helms with Houston Police Department Violent Crime Task Force. "By the time they get out (from prison), they're older and they're looking to hit that big score, and I think they believe that's in the armored truck."
Dr. Everette Penn, professor of criminology at UH Clear-Lake affirmed that the sheer number of opportunities; thousands of banks and ATMs spread across the sprawling city, including the distance armored cars must drive to service the ATMs—"could easily account for the increased numbers of armored car robberies."
"Each and every one of these crimes is serious and alarming because in each incident you have armed robbers with more aggressiveness willing to go up against an armed guard," said FBI special agent Shauna Dunlap.
The FBI and Houston Police (North Division Tactical Unit) were in hot pursuit of these phantom, gangster-killers, but police lagged far behind to reel them in to face justice.
During a particularly violent robbery, the armored car guard was shot and while the guard lay on the ground he mustered enough strength to fire off multiple shots, nearly striking one of the masked robbers, forcing the crew to flee empty handed. Determined to get 'rich or die trying' the violent thieves returned with a vengeance like the character Jason on Friday the 13th.
Those carrying out these robberies simply modified and refined their robbery strategy by using superior technology, and high-powered weapons to murder armored car guards from a distance to "get the money"–by any means necessary.
Houston, TX. Thursday, February 12, 2015. Time: Between 1:50 PM and 2 PM.
On a pleasant, warm, winter day, a Brinks 500 series armored car rolls onto the strip center at 5700 Westheimer, where the 22-story Capital One Plaza is located, just a few blocks from the lavish Galleria Shopping Mall, one of the most exclusive places to shop in the city.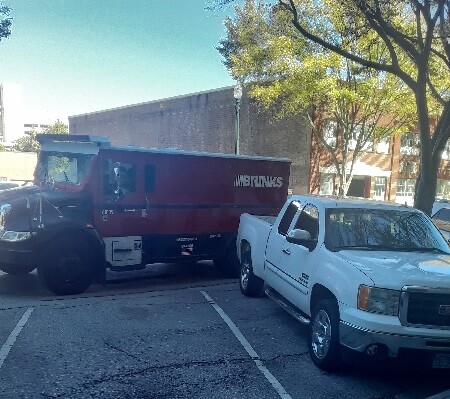 As patrons either headed into the mall or were leaving, the massive, impenetrable armored car, outfitted with bulletproof windows, stopped in front of Capital One bank on the ground floor. Tucked inside the steel-plated vehicle were two Brinks guards: Bertha Boone and Alvin Kinney.
Both had been working for Brinks for over ten years or more. Kinney, age 60, was known as the "messenger" because his assignment was to carry the "coal bags". Coal bags are packed with cash and the guard carries money to and from businesses, banks and ATMs. Clad in a bulletproof vest, armed with a large caliber weapon, Alvin Kinney was loaded and ready — if confronted by a robber.
When the vehicle finally came to a stop, Kinney swung open the rear door, then he rolled a metal cart onto a lift gate and lowered the cart to the ground. Then Kinney closed the door. Next, he made sure to check his surroundings. With the coast clear, Kinney pushed the cart into the entryway of the bank.
Shortly, Kinney reappeared and headed to the armored truck with large bags of cash. As he got closer to the vehicle, three masked men clad in body armor rushed Kinney like running backs. Suddenly, as intense fear took over, Kinney hollered, but one of the men paid no mind and quickly aimed his rifle, firing off a shot that left a gaping hole in Kinney's head.
Fatally wounded, Kinney slumped to the ground. Working in succession, the suspects backed up a white Ford F150 truck to where the rear door of the armored truck was already open and the crew hurriedly off-loaded around "one million dollars" in cash from the Brinks truck, placing the money into the bed of the F150 vehicle.
Realizing the robbery had gone down, Bertha Boone activated the truck's siren, flung open her door, leaned out, and fired her weapon several times at the rear of the vehicle. In rapid response, the robbers returned fire at Boone, but they missed her as she dove back into the vehicle.
The robbers escaped capture by speeding off in the F150.
Houston police and a team of FBI agents assigned to the Houston's field office of the Violent Crime Task Force swarmed the bank. Terribly shaken by the ordeal that stole the life of a fine, dedicated and likable co-worker, Bertha Boone gave police a complete statement about what went down.
After police carefully studied the video from the bank's surveillance cameras, they discovered the Ford F-250 truck, recovered in the parking garage. A license plate check proved the officers hunch the vehicle had been stolen. Apparently, though, the crooks had parked the vehicle and drove off in a getaway ride. The getaway driver was generically described by a witness as a black male whose face was not covered by a mask.
The scant clues the police accumulated led to dead ends. A $100,000 reward never produced any solid leads either. In Houston, a crime stoppers reward of $5000 or even less money has helped police to solve double and triple murders. So why did no one come forward with information to make $100,000.00.
The killer(s) were missing in action.
The other hit went down on November 6, 2015, at approximately 2:00 p.m. when a Loomis armored truck arrived at Bank of America (BOA) on North Shepherd. A guard exited the vehicle and went into the bank. Heading back to the armored vehicle with the cash, seemingly out of nowhere a black man, armed with a high-caliber rifle, wearing a mask, a bulletproof vest, and a gray long-sleeved hoodie eased out of a stolen white Jeep. Swift as a panther, the gun-toting assailant ran toward the guard, aimed his rifle, and squeezed the trigger as the hot slugs struck the guard's body. Miraculously, the guard was not hurt too badly as he stumbled back towards the armored truck.
Unable to steal the money bags, the robber-shooter ran off from the scene. FBI task force and Houston police soon arrived to question witnesses and check the surveillance videos. Officers pondered among themselves if the shooter was the same actor in Alvin Kinney's death. The police offered a $15000,00 reward for information to arrest the armed robber. Nothing of value came forward just as no leads were provided in Kinney's death at Capital One.
For a while it appeared the armored truck robbers cooled off a little. Or maybe they still had money left over from other robberies.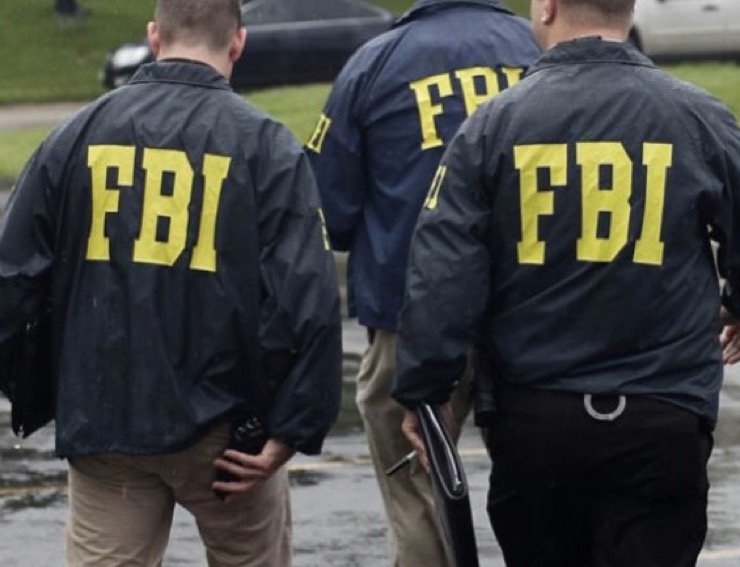 On March 18, 2016, a shade past noon, another Loomis armored truck roared up to JP Morgan Chase Bank on Airline Drive on the northside of Houston. A guard named Melvin Moore carried a cash-filled tray to stock the bank's outdoor ATM with crisp, brand new bills. While reloading the ATM, a hail of gunshots struck Moore. He fell to the ground, grimacing in pain. Meanwhile, in clockwork fashion, a black Nissan Altima sped toward the wounded guard, and quick as a cat, a robber in the back seat leaped from the vehicle to steal the money tray, but Moore, was unbelievably, still alive! He pulled his side weapon and fired at the robber, who jumped back into the Altima as it raced from the parking lot. Moore, a 32-year-old married father of four young children, dropped his weapon to the ground and died instantly.
What surprised the bewildered officers this time was that after they concluded watching the bank's surveillance video, there was no image of the shooter who cold-bloodedly gunned down Alvin Moore. They managed to see on camera that the suspects had been patiently waiting in the parking lot prior to the arrival of the armored truck. The surveillance video clearly shows that the masked robbers who confronted Moore were armed with handguns. Neither suspect appeared to have fired a shot even as Moore bounced up from the ground like an energizer bunny, drew his pistol, and seemingly shot one of the robbers. Autopsy findings on Moore's body triggered the officers' curiosity into overdrive.
Alvin Moore was killed by a .223 high-powered rifle. No witnesses recalled seeing a rifle.
Investigators painstakingly re-interviewed each witness. Perhaps they were wrong about what they saw. "Are you sure you didn't see anyone with a rifle?" an investigator asked a witness. Each witness concurred that they did not see a rifle.
In Chris Andersen's book about the case titled The Sniper, Andersen recalls how an officer said, "Maybe they used a sniper."
Referring to the Sniper theory, Andersen writes, "It had never been seen before, even in the most sophistication of robbery crews. A sniper was the stuff of elite military units, political assassinations, or Hollywood movies."
A real-life sniper roaming around untouchable in the heart of Houston.
Andersen continued. "Many of the investigators didn't want to entertain the idea; it was an even lower level of sociopathic criminality. Cold bloodied murder first, then rob."
Determined to nail the violent thugs, the FBI task force released a video to the TV news media and other media outlets which explicitly showed the shooter opening fire on the guard. A $15000 reward was also offered for pertinent information leading to the capture of the rifleman. Like the Capital One robbery-murder, police never received the magic clue to identify who these guys were.
Investigators held their breath, hoping the bloodshed would stop. But the killers struck again on Monday, August 29, 2016, at Wells Fargo Bank on Northwest Freeway. Shortly before 6:PM, a Brinks armored truck pulled up to the ATM section where 25-year-old David Guzman was about to place new money trays into an ATM when a burst of gunshots crackled the air. Guzman, paralyzed by the slugs, slumped to the ground. Next, a blue Toyota sedan sped quickly to where Guzman fell, and a masked robber rushed out from the back seat. First, he sprayed Guzman's face with mace, to blur his eyes. Then, the cat robber grabbed the money tray from the dying Guzman and rushed back to the Toyota. Inside the money tray was a big lick, $120,000.
When the FBI and Houston police obtained an outdoor video security camera from an Extended Stay America Hotel located across the street from Wells Fargo Bank. Investigators discovered a tantalizing clue while watching the video: agents spotted on the video a white Toyota 4Runner pulling slowly into the hotel's parking lot at 2:54 p.m, approximately three hours prior to the shooting. The Toyota backed into a parking space to set the rear of the 4Runner to face the bank. The same vehicle left the hotel's parking lot at 5:57 p.m, very shortly after the shooting of the Brinks guard David Guzman. As the investigators watched the video, they noticed something extremely interesting: Between 2:54 p.m and a couple of minutes or so before 6 p.m, not a living soul emerged from the vehicle.
This chain of events triggered deep brainstorming among the officers.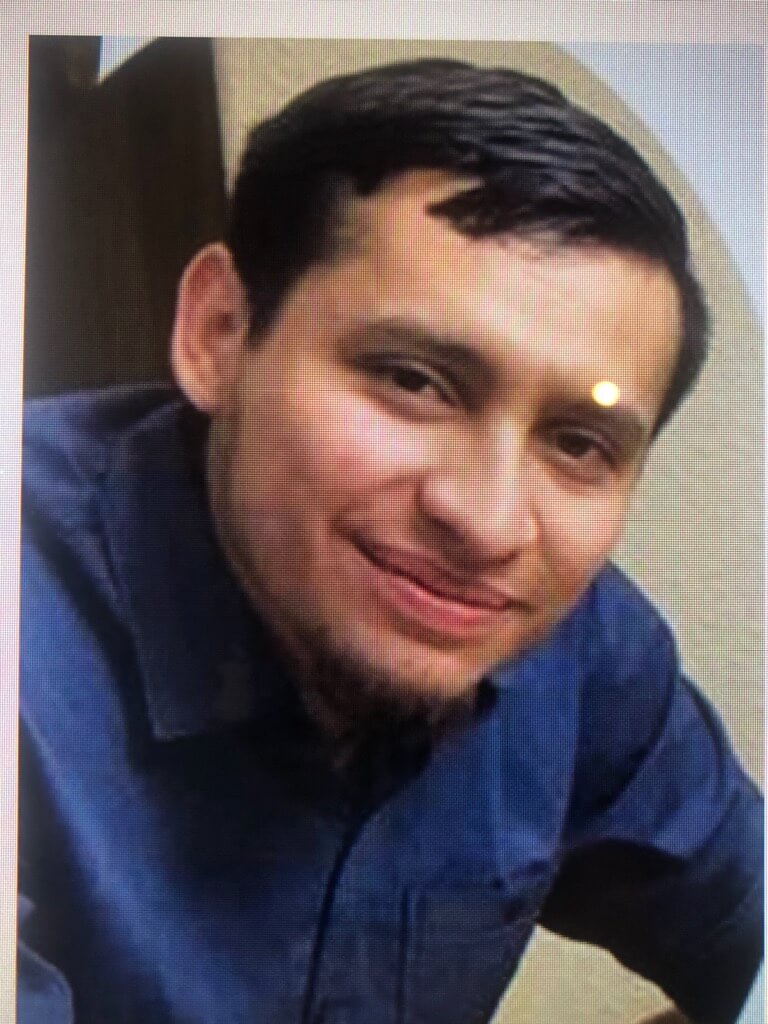 Why did the driver of the Toyota park at a hotel for three hours, and suddenly drive away, right after the shooting? Was the driver the person who murdered Guzman? If this happened, why did the Hotel's video did not show the killer exiting from the vehicle carrying a rifle?
The strange circumstances surrounding the white Toyota left the officers thoughts reeling in orbit.
What in the hell did all this mean? Has the Sniper theory evolved into a cold reality of the day? What is true is that; behind every unsolved mystery; someone, somewhere knows the truth.
Houston police homicide sergeant Jason Robles received a call from an informant who had worked on drug cases for an investigator at the Harris County District Attorney's Office in Houston-Harris County, Texas.
"I saw the evening news about the murder of the Brinks guard, and I think I know who did it," the person said. "Who is it?" Robles asked, not sure if the guy knew what he was talking about. "We call him Red and I think his last name is Batiste." The informant explained to Robles that he had known Red for years, and that, Red, robbed armored trucks. 
The informant further explained that Red was highly professional at robbing armored trucks and that he would:
Follow armored trucks each day to learn the routines and schedules of the guards who handle the money.
Red lived in the Acres Home area.
That Red shoots the guards from a distance with an assault rifle with a scope on it.
Red practices with the rifle near a bayou in Acres Home
He owns different vehicles; a black Wrangler Jeep, a black Cadillac, and that he uses these vehicles to watch the armored trucks
Living an expensive lifestyle, the informant said, Red needed to rob at least 3-4 armored trucks per year.
That "Red" stashed other vehicles used in robberies at a north side apartment not too far from Acres Home.
Around September 2016, FBI agents and Houston Police NDTU (North Division Tactical Unit) began the hunt for a dubious character whom they determined to be 36-year-old Redrick Javon Batiste (AKA Red). Batiste, an African American, appeared to many as a typical, young, single fella, living an ordinary life. Batiste lived with two bulldogs in a large two-bedroom house at 1351 Tarberry street in Acres Home. Tall and handsome, with a narrow face, low trimmed hair, curved bushy eyebrows, and long pointed nose. People familiar with Batiste have said he possessed a generous heart and was often seen walking his bulldogs in the neighborhood where he lived. Police determined that Batiste was a real estate investor with the hope of becoming a rich real estate developer. Batiste had no job or any known substantial income to buy real estate.
So, the billion-dollar question raged like fire: where did Batiste get his money to fund real estate projects?
Acres Homes, where Batiste lived on Tarberry Street, represents a lower-to-middle-income community. Some residents still exist in old shotgun houses built on wooded lots, government funded apartments, and small homes in subdivisions scattered throughout the region. There was also the middle-class who built expensive houses in Acres Homes. Located 10 miles northwest of downtown Houston, Acres Home is a 9-square-mile area that is loosely bounded within the city limits of West Gulf Bank Road to the North, Pinemont Drive to the South, North Shepherd Drive to the east, and Alabonson Drive to the West.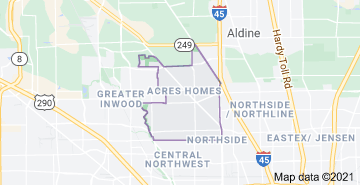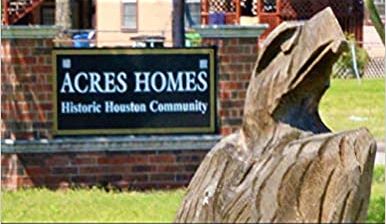 Known for its bevy of cowboys, rodeos, horse riders, trail riders, gumbo, hot food stands, rap music block parties, and young men hanging out at the car wash at Little York and West Montgomery, showing off their freshly-painted rides, capped off with shiny rims, and there's more: don't forget the Zydeco music blaring from beer joints, Acres Homes is nonetheless a unique mix of rural and urban. Once labeled the South's largest unincorporated African American community, Acres Homes was developed during World War I. Acres Homes earned its distinctive name because during the World War I era the land was sold primarily to African Americans by the acreage. Cheap land offered rural settlers' sufficient space to raise livestock and grow gardens.
These days, residents affectionately call Acres Homes, the "44", a term used to describe the city's Metro bus that zooms down West Montgomery, transporting passengers to their destination–or it is referred to "Acreage Shaker"—depending who you talk with. Some of the best barbeque joints in the city of Houston lie in the heart of Acres Home; one of the most popular spots in town is the family-owned Burns Barbeque located at 8307 DePriest Street.
A Young, Troubled Man, Filled with Hopefulness of Success to Revitalize Acres Home
Born on January 23, 1979, investigators and a Texas Monthly Magazine reporter discovered Redrick Batiste was the only child of Roy and Joyce Batiste. Both parents worked blue-collared, well-paid jobs to support themselves and their doting son. As a child beginning in Kindergarten, Batiste attended private schools, wore expensive clothing, and every need he needed was fulfilled. Growing up into a slender-built teenager, Batiste played Jr. High school basketball. On Sunday, Batiste's parents took him to attend Mount Horeb Missionary Baptist Church in the Fourth Ward on Gray Street.
"We loved him, and he loved us", said Joyce Batiste, during an interview with Texas Monthly Magazine reporter Skip Hollandsworth.
Between 1996 and springtime in 2016, Batiste racked up several low-level criminal convictions in the Houston area. His criminal history showed arrests for weapons possession, misdemeanor assault, marijuana possession, driving while intoxicated, evading arrest in a motor vehicle, suspended license and evading detection.
Nothing in Batiste's background suggested he was a cold-hearted killer.
A prominent female pastor who birthed a child with Batiste described him as a charming gentleman. "Redrick is a nice guy. He laughed a lot." Batiste's child that he sired with the pastor died at age five due to recurring health problems. A second attractive girlfriend also birthed a child, a girl, with Batiste. Despite Batiste's best efforts to avoid trouble, a magnet drew him deeper into a web of crime. He hit the "big time" in the year 2000; when a judge gave him six years in federal prison for illegally purchasing a firearm. Thereafter, Batiste served state prison time for using stolen credit cards. In 2009, he spent an additional thirty days on credit card abuse.
Determined not to return to prison, Batiste went to work for a man identified as Tommy Albert who owned a home construction and delivery business. Albert told a Texas Monthly reporter that Red was a person avidly interested in many topics. "He would sit at the computer for hours, just doing general research. He'd read about it from Muhammad Ali to Dick Gregory," Albert said.
During Valentine's weekend in 2013, Batiste met a young girl named Buchi Okoh at a party. Okoh, a goal-oriented young lady was a former volleyball player. She also had a real estate license, prior to becoming a car salesperson.
After a whirlwind romance, Okoh gave birth to Batiste's infant daughter.
Police suspicions would later intensify once they discovered, to their utter amazement, that Okoh had been employed as a car salesperson at Stewart Cadillac.
Were The Police Tracking a Serial Killer or an Innocent Citizen?
Based on critical intelligence that the police accumulated about Redrick Batiste, a strategic decision was made for police to obtain a warrant to attach a GPS Tracking System (GPS) on Batiste's Jeep. A second warrant was approved for agents to also place a GPS tracker on Batiste's girlfriend's car, identified as Buchi Okoh. Both GPS warrants were approved by a judge on September 3, 2016. Retired Houston Police Sergeant Chris Andersen, who wrote about Batiste's crimes in his published book, said, "We suspected that Batiste and the other unknown members of this crew were highly organized, serial business-type robbery crew, that were also serial killers and the clock was ticking down for their next planned robbery/murder."
Officers David Smith, Steve Zakharia, Ben Leblanc, and Houston Police North Division Tactical Unit Sergeant Chris Andersen drove to Flossie Mae Street to check out whether Okoh's vehicle was available to place the tracking device on it. Each time Zakharia trudged onto the driveway holding the GPS device, the dog inside the house barked crazily. After both unsuccessful attempts to execute the job on Okoh's new Cadillac CTS, the officers went searching for Batiste's Jeep.
Officers found it at 1351 Tarberry in Acres Home where Batiste went to sleep every night. While other officers waited in an undercover vehicle, Zakharia eased onto Batiste's front yard, crawled under the Jeep Wrangler, and quickly put three GPS trackers on the vehicle. Police eventually succeeded in placing the tracker on Okoh's Cadillac as she hustled to sell new Cadillacs at Sterling McCall dealership on Southwest freeway, to make a living.
For three long months, FBI and members of the Houston Police North Division tactical unit followed Batiste's vehicle. On one occasion, officers discreetly trailed Batiste to the intersection of West Little York Road and North Houston Rosslyn Road. At this location there is a Chase Bank with ATM machines installed in the parking lot.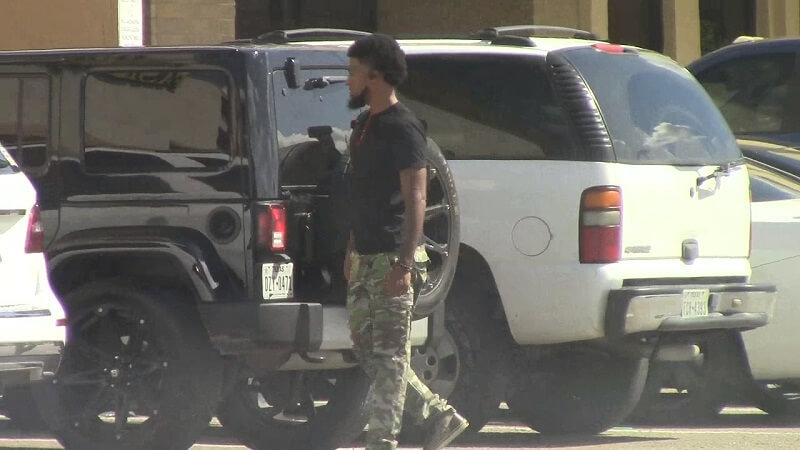 Just so happened, Batiste made it to the location when the ATMs' were being refilled with cash by a Brinks armored truck guard.
Suddenly, when Batiste saw the action, he spun around into the bank's parking lot with his Jeep. Strategically, he positioned himself at an angle where the guards most likely did not see him. Police on surveillance readied themselves to shoot Batiste if he went for the kill. But he did not move. Like a patient mentor, Batiste watched the time frame it took for the guard to finish refilling the ATM trays with money. Once the Brinks truck left, officers keenly observed that Batiste remained sitting in his spot across the parking lot near the bank. Perhaps, they thought, Batiste wanted to document the time frame when the guards arrived with the money, and to determine the layout of the area, where to position himself, to later return for a score of cash, shoot the guard, then have his "partners in crime" run over to where the guard would fall, and scoop up the money.
It all made sense.
Police were convinced they had spotted the phantom killer of the armored guards.
"He's our guy," an officer said, with a trace of delight in his raspy voice.
Recovery of the Sniper Vehicle
Next, based on the time frame when Batiste headed further up north from Acres Home, investigators found the white Toyota 4Runner SUV located at a large apartment project. When police ran a check on the vehicle it came back stolen over a year ago. While inspecting the vehicle, the officers discovered that a hole had been cut into the tailgate of the vehicle, a hole large enough to position a scope-mounted rifle and fire shots through the hole.
The setup (the hole) in the tailgate was perfect for a sniper!
"We found a Toyota. The tailgate has a hole big enough to put a rifle in and shoot your target," Sgt. Andersen told his lieutenant and captain. A GPS tracker was placed on the Toyota and Houston police CID investigators installed a pole camera close to where the vehicle was parked to monitor who drove it and when.
More Killers on the Horizon?
Police documented every move that Batiste made. What worried the officers was whether Batiste would find the GPS trackers on his vehicle. Before long, other players emerged into the picture.
Were they killers as well?
Police observed Batiste meeting with two fellas; an Acres Homes guy named Nelson Polk, age 37, and Batiste met with Polk's 46-year-old uncle, Marc Hill. Polk and Hill were ex-convicts. Polk served prison time for drug and firearm offenses while Hill served time on drugs, including assault charges. Polk was not a high roller like Batiste and Hill. He scampered around town doing menial jobs to survive and he needed a nice "money" hustle. His uncle Marc Hill enjoyed the trappings of entrepreneur success. Hill owned a popcorn gourmet store called Popcorn Krush, a cemetery cleanup crew, and a welding shop, including a tractor company specializing in hauling rocks and clearing land.
Police pondered whether Nelson Polk and Marc Hill were accomplices in Batiste's robbery-murder spree.
The officers were not sure, but they sought to find out.
To ramp up their efforts, a judge granted the officers permission to place a GPS tracker on Marc Hill's Toyota Camry on November 8, 2016. Hill's routine was initially dull, until November 21, shortly before 8: a.m. The GPS tracked Hill's movement towards Amegy Bank right off Sam Houston Parkway, North I-45. According to police reports and court records, Hill's vehicle remained in the Amegy bank parking lot for three hours and he did not work anywhere around there. Exactly thirty minutes after Hill left the bank, mastermind Redrick Batiste drove up in a Jeep Wrangler. He hung around until 5 p.m.
Acting like security guards themselves, Hill and Batiste watched Amegy Bank like hawks!
The next morning, November 22, as citizens headed to work, Hill rushed over to Amegy Bank parking lot and stayed for two hours. Taking turns at their stakeout, Batiste arrived close to "eleven a.m." Incredibly, Batiste stayed there for almost seven excruciating hours.
On the third day, same routine.
Batiste arrived at the bank around 8:20 a.m. At 11:30, a Loomis armored car pulled up to the bank's ATM machines located outdoors. Police watched through binoculars as Batiste, his eyes fixed in a stare, watched the guard refill the ATM's money trays. Subsequently, Hill returned to the bank in a black Infiniti QX56. When the armored car left, Batiste and Hill drove in separate vehicles Greenpoint Mall, where Nelson Polk, driving a beat-up Chevy van, met the pair. Task force officers watched the three men talk, presumably strategizing a hit, before they hopped into their vehicle and returned to the immediate area of Amegy Bank. The dynamite duo's drove up and down different streets as if they were plotting escape routes. Then, they left and went in different directions.
"They checked out the streets to determine their escape routes. They're going to rob another armored truck, kill the guard, and steal the money," Andersen said.
Not a single officer disagreed. One officer suggested the robbers needed Christmas money.
On November 29, a federal judge signed a Title III interception order that allowed the FBI agents and Houston police officers to tap Batiste's cell phone calls to listen to whom he was calling, when he was calling, and whoever called him.
Interestingly, FBI agents issued a search warrant to grab a hold of Batiste's historical cell phone records. The records revealed a treasure trove of clues to prove Batiste's approximate location when the armored guard couriers were murdered.
---
Read Part 2 of this remarkable story here – FBI's Manhunt For Houston's Northside 'Sniper' [Part 2]
About the author: Clarence Walker is a Texas-based journalist and Private Investigator and can be reached at [email protected].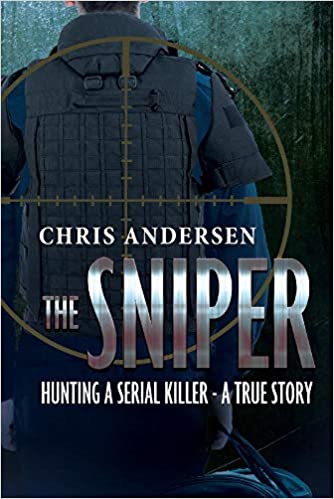 The gripping true story of a crew of serial killers whose specialty was robbing armored trucks and how they were ultimately undone. These armed suspects were almost exclusively black males with street gang affiliation, who were also sometimes responsible for the murders of innocent citizens―many of them black―during the course of these same robberies.
---