---
Dylan Howard is a name most will associate with celebrity revelations and shocking exposes, but now Howard is turning his formidable investigative journalism skills to some very high profile true crime cases. Working with Skyhorse Publishing and Start Publishing, Howard is bringing no less than 20 true crime books to publication, including; Diana: Case Solved, Aaron Hernandez's Killing Fields, The Last Charles Manson Tapes, and Epstein: Dead Men Tell No Tales.
Each of these books promises new research, discoveries, and revelations on these cases, bringing the true story of what happened and who was involved. One of the most anticipated of these books has been Epstein – Dead Men Tell No Tales. Released on December 3, 2019, this book comes with the statement "You think you know the story of Jeffrey Epstein. You have no idea."
Dylan Howard is the Vice President and Chief Content Officer at American Media Inc. and is well-known as a fierce, and feared investigative journalist in Hollywood.
Epstein is a collaboration between Howard and leading investigative journalists Melissa Cronin and James Roberson. And it seems the story doesn't end there. On Christmas Eve 2019 Skyhorse Publishing announced a sequel to Dead Men Tell No Tales called 'Epstein, INC: How the US Government Helped Make Spying and Blackmail Big Business'. Just as 'Epstein' was about to be published, even more information and further closely kept secrets came to light from someone close to Epstein.
"Until now, we didn't know the full and unfettered story about Epstein, particularly given the revelations of the first installment EPSTEIN: DEAD MEN TELL NO TALES and the actions of so many rich and powerful individuals who remain in the forefront of our collective consciousness. Skyhorse could not be more excited to publish the continuation to the book that launched a whole new investigation into Epstein."
– Tony Lyons, Skyhorse CEO and Publisher
In amongst his exhausting schedule, Dylan has very kindly found the time to answer some of my questions about this work, this fascinating true crime book series and the new upcoming sequel transforming what we think we know about the Epstein scandal.
Q & A with Dylan Howard
---
Q. You have been an investigative journalist, producer and publisher for over 20 years. What is it about this work that excites you and keeps you doing it?
DH – As a kid in the quiet hamlet of Geelong, Australia, I was always drawn to mysteries and dreamed of uncovering the biggest stories of the day, of being a journalist known to shine a light in dark places for all to see. I've done a lot over the course of my career to move me closer to that goal, I am as passionate about a story today as I was as a cadet reporter two decades ago.

Over the years, the approach might have changed, but my mission has always been the same: give the readers what they want, especially when no one else dares. That has required shoe-leather sleuthing to nail these stories, passed polygraph tests, and impeccable and rigorously fact-checked sourcing undertaken from my staff. To be fair, I do love a sensational angle, a juicy rumor, a shocking exposé. I bleed for it. It's what real reporters do, and it's what readers want. But we are also journalists—many of us fine, immensely talented journalists, and I am delighted to have found a new medium in books to pursue the truth, both provocatively and candidly.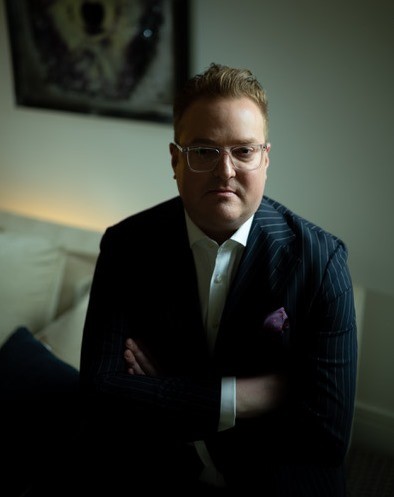 Q. 20 true crime books are a huge undertaking. How did the project come about and how long have you been working on these cases?
DH – I was fortunate enough to meet Tony Lyons, the publisher of Skyhorse Publishing through my literary agent, Jarred Weisfeld, last year. We struck the deal but kept it quiet until I had made significant inroads into finalizing the manuscripts. I say this with the greatest amount of respect to Tony: He is as much a rogue and renegade as I am. I am in awe of the work he does at Skyhorse to publish such a diverse and deep slate of titles each year. He is not afraid of printing what others won't. That's an amazing quality to possess as a publisher. Tony and I have big visions for the future and we talk almost daily. He is a true storyteller and wants to publish books that make arguments in support of and against all kinds of controversial opinions and narratives. He is a rare commodity.
Q. There are so many true crime cases with questions still unanswered and many where justice has not been achieved for the victims. How did you pick the cases for this book series and were there any in particular you were especially drawn to?
DH – Having previously worked in the tabloids as a reporter, editor and the Chief Content Officer of American Media, the largest publisher of entertainment magazines, for close to decade, I naturally gravitate to anything that has a Hollywood or pop culture bent. But some of the more intriguing stories are those that don't get the mainstream coverage — or get it — and then it fades into oblivion. One of those cases is the death of Canadian pharmaceutical tycoon Barry Sherman and his wife who were murdered, but the case remains unsolved today. The Shermans' bodies were found hanging from a railing around a basement pool. The theory initially was that the he killed his wife Honey, hung her body and then hanged himself by the pool's edge. To me — and their family who hired their own private investigators — that doesn't pass the smell test. This is a case I am desperate to investigate. Sherman's Apotex is the largest maker of generic drugs in Canada, and the Shermans' fortune was estimated at more than US$3 billion. I have a hunch… follow the money trail.
Q. The Jeffrey Epstein case is one that I think really shocked and surprised a lot of people. Your book, Epstein: Dead Men Tell No Tales, released in early December 2019 claimed he was an Israeli spy. Now there is word of a sequel. Can you tell us any more about that?
DH – If you think you know the story of Jeffrey Epstein, you have no idea. Our new — and unprecedented — investigation will expose the open secrets that helped enable one of the world's worst sexual predators to roam free for decades on American soil. I am so fortunate to be able to work with various co-authors. In the instance of Epstein, Melissa Cronin and James Robertson have been reporting on Epstein since 2014. When we set out to write a book about his crimes, we thought they knew the whole story. Before long, however, we uncovered compelling evidence about his actions as a super spy for Israel's Mossad intelligence operations.

On the eve of publication for that first book, a chance meeting with a whistleblower from Epstein's inner most circle transformed this story from a personal pursuit into a geopolitical thriller. Dirty money, fake lawsuits, corruption, unexplained deaths and billions of dollars are all part of what could become the exposure of the biggest espionage scandal in American history. We can't wait to tell it, and I couldn't be happier to be working alongside two of the most talented reporters I've ever worked with.
Q. You brought us the Natalie Wood case in a very successful podcast form through Fatal Voyage: The Mysterious Death of Natalie Wood and will be publishing a book on the case as part of this series in May 2020. Did you consider podcasts for any of these other cases before you decided on book imprints?
DH – Some of the books have a television or podcast tie-in. I think we will start to see more of that in this genre as it grows. For example, Aaron Hernandez's Killing Fields (that was released on November 5) is now a major television event premiering on REELZ on January 18. It is based on the book, and reveals new crimes by Hernandez, exposes never-before-seen evidence, secret jailhouse recordings, plus the first-ever television interview with the ex-New England Patriots star's jailhouse lover. The cutting-edge new documentary series tracks Hernandez's two murder trials, in which he was acquitted of a double homicide just five days before his death after being convicted of killing his fiancé sisters' boyfriend, Odin Lloyd.

It also explores Hernandez's past, his motive for murder and the truth behind the double life he led. This story is as compelling as any movie I've seen. It is a nail-biting investigation with more twists and turns than a Shakespearean tragedy. The stories we discovered have never been heard until now. At every turn these gripping first-hand accounts brought us closer to the truth. Aaron Hernandez's Killing Fields provides the most authoritative and thorough examination of the investigation to date, and will lead viewers on a fascinating exploration of never-before-seen police evidence, and probe key figures in his crimes and life with provocative questions.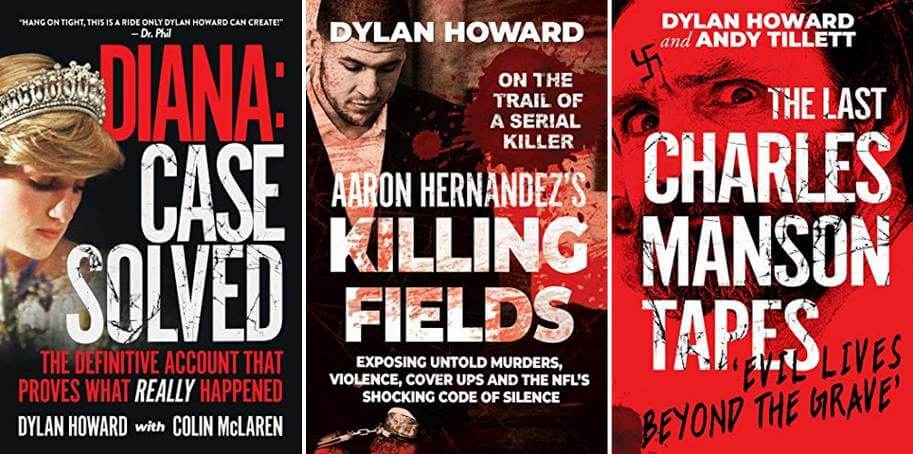 Q. I'm curious how you go about investigating cases like these. The JonBenet Ramsey case for example, you brought together a team of experts and investigators to actively reinvestigate the case. How did you approach this with a case so high-profile and one still unsolved?
DH – For 22 years it has been a crime that has gripped the world, and a family cataclysm almost unthinkably terrible in both detail and consequence. The murder of JonBenét Ramsey shocked America. That she was killed aged just six was a tragedy of epic proportions – but the circumstances surrounding her death were nothing less than horrifying.

It's been a story that has troubled me for some time. I firmly believe the reporting on the case has been sensationalized to a point where we needed to get back to basics. What remains incontrovertible fact is that over two decades after her death the little girl's killer remains at large. The initial investigation was flawed, with police and prosecutorial misconduct, as well as widespread evidence tampering. The current investigation – such as it is – remains mired in doubt and misinformation.

When I was fortunate to meet her father for the first time recently, in an attempt to convince him to work with me on the podcast, The Killing of JonBenét Ramsey: The Final Suspects, I was left heartbroken at the life he's been forced to live with. If I can deliver an unflinching original audio documentary series that follows a brand new investigation into one of America's most heinous unsolved murders – and attempts to finally secure justice for JonBenét — I will have done a service to Mr. Ramsey. To that end, the team I assembled will leave no stone unturned, no lead unfollowed, no witness un-cross-examined, no suspect un-investigated. We will sift through scores of new tips and leads, pore over never-before-seen crime scene evidence, search through hundreds of pages of evidence, coroners' reports, police statements and private journals, and conduct many exclusive new interviews. We are in the midst of our search for the little girl's killer right now – and we will do our damndest to find him… or her.
Q. All these cases are well-known where the public will have their own opinions about what happened. Bad: An Unprecedented Investigation into the Michael Jackson Cover-up due to be released in June next year, strikes me as one that will definitely stir up public opinions and response. How do you think people will react to the information this book is set to reveal?
DH – I went into the investigation with an open mind. Jackson fans have long accused me of being anti-Michael. I recall doing Nancy Grace on HLN one night, during the trial of Conrad Murray, and I said Michael Jackson was a drug addict. The reaction on Twitter and social media was instantaneous—and not pleasant. Jackson fans are a rabid group who will defend him to the hilt. I don't think there is any dispute that Michael was, indeed, an addict. Nevertheless, in the wake of the controversial film Leaving Neverland (a two-part documentary telling the stories of two young boys who were befriended by the singer and have claimed they suffered years of agonizing abuse), I set out to investigate Jackson's life and death in unprecedented depth and determine if, as one lawyer suggested, the pop star I idolized as a teenager ran "the most sophisticated child sexual abuse procurement and facilitation operation the world has known." The final result is a dramatic narrative account based on dozens of interviews, Michael's own riveting personal journal, interviews with Jackson family members, multiple first-person sources—some of whom have asked to remain anonymous—and thousands of pages of court documents. I also acquired dozens of pages from Jackson's own private investigator's files and case notes.

What I uncovered is a man in Michael Jackson who was both naive and Machiavellian, unorthodox, a devoted father, and a shrewd businessman, whose life was cut short but whose sound and style have influenced artists of various genres. Remarkably though, in death, there remain two portraits of Michael Jackson: the reigning King of Pop, and a pedophile whose pattern of abuse ruined his reputation. Fans and individuals alike will forever be asking if the insidious claims being made about Michael are true. This is the new narrative and the sad legacy of one of the bestselling music artists of all time, who amassed sales of over 350 million records worldwide. I will declare, however, Jackson fans will be surprised with some of the conclusions I came up with.
Q. With these cases being so emotive and still understandably sensitive for many of those involved, did you have any problems conducting interviews for your investigations and people being willing and open to talk to you?
DH – It is always difficult to convince people who have been harboring long-held secrets to tell their stories. But that is the art, in many ways, of investigative journalism. It is about building relationships and trust. Ultimately, I firmly believe everyone is a storyteller—and earning the trust that leads to the untold story out of a source or informant helps us become more educated and informed.

Q. I guess you never know what information you are going to uncover in any investigation of a true crime case. Across the cases you've worked on for the book series, were there any particular discoveries that really shocked you?
DH – I remain fascinated with the circumstances surround Natalie Wood's death, and I have uncovered new information that will make the release of Natalie Wood Fatal Voyage a landmark moment in the case. That she was taken at the young age of 43 was a tragedy of epic proportions – but the circumstances surrounding her sudden death were nothing less than horrifying.

Perhaps even more so than anyone initially realized. We know the initial coroners verdict: accidental death by drowning. The coroner was wrong.

It was to be just the first of a series of blunders that would define the sad passing of a national treasure… and even now, decades after Natalie's death, the police investigation remains mired in doubt and misinformation. Did Natalie jump? Did she slip? Was she unconscious before going overboard? Or was she pushed? And if so – by whom? And why? Now, for the first time, the real story can be told – and it's every bit as monstrous as anything Hollywood's scriptwriters could dream up. It's a hell of a story.
Q. What's next for you, can we expect more true crime books or podcasts coming in the future?
DH – I very much subscribe to George Orwell's thesis: "Journalism is printing what someone else does not want published; everything else is public relations."

My brand of journalism, at times, is not particularly well-liked—but others crave it. It's about compelling stories, access to information, and revealing the stories that have yet been told or maybe even been hidden for reasons unknown to us. Over the past decade, I have built up a source network that I consider to be unprecedented with regard to access to information. In the short term, over the holiday break, I will be laser-focused on writing the sequel to Epstein: Dead Men Tell No Tales. But unique and remarkable stories always come across my desk, and I intend to continue to investigate and write and capture the attention of today's audience with compelling narratives and reporting that will deliver thought-provoking conversation, often information that is censored elsewhere, to the American public. Of course, I have my own stories to tell too—and intend to do so in 2020.
Thank you Dylan for such an insightful interview! All Dylan Howard's books, including those mentioned above, are available to order and pre-order on Amazon.
---
Unlimited reading on any device, try Kindle Unlimited from Amazon for free
Prefer Audiobooks? Audible 30-Day Free Trial with free audiobooks