---
On 2 September 2003, emergency services received a desperate 911 call. "Save my babies! Oh My God!" Amanda Hamm screamed down the phone. "My kids are in the car! The car is going into the lake. I need help!"
Amanda Hamm, her boyfriend Maurice LaGrone Jr, and Amanda's three children, 6-year-old Christopher, 3-year-old Austin, and 1-year-old Kyleigh, had driven to Clinton Lake in DeWitt County, Illinois that evening and parked on the boat ramp next to the water. The car had gone forward into the lake with the front end submerged in 7 feet of water. Amanda and Maurice escaped the car, the children did not. When emergency services arrived they found Amanda and Maurice standing near the water. They got the children out of the car within minutes but it was too late for them to be saved. All three children died and questions over why had now begun.
The Unforgiven: The Untold Story of One Woman's Search for Love and Justice by Edith Brady-Lunny and Steve Vogel reveals the complex story of this case and its aftermath in a fascinating and thought-provoking book published in May 2019.
The tragic deaths of these three young children were surrounded by questions, accusations, and troubled histories which resulted in a conviction of murder for Maurice LaGrone and Child Endangerment for Amanda Hamm. Today, Maurice remains behind bars serving a life sentence. Amanda has tried to rebuild her life but has been unable to escape her past or those who don't believe she should.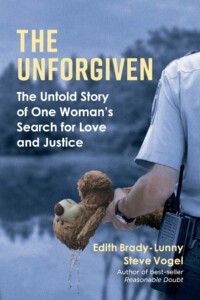 Amanda Hamm remarried and had three more children in the years since her release from prison. The response by the State of Illinois to Amanda once again being a mother has resulted in a family torn apart.
Edith Brady-Lunny is a reporter who lived this case as it broke and played out in two different trials. Steve Vogel is the author of the successful book Reasonable Doubt on the Hendricks family murders, and the two teamed up to work on The Unforgiven. Their combined experience has produced a true crime book which raises troubling questions about the criminal justice system, about morals and ethics, justice, punishment, and forgiveness.
Both authors have very kindly given me some of their time for an interview about the book and the story of Amanda Hamm.
Q&A With Authors Edith Brady-Lunny and Steve Vogel
---
Q. What was it about this case in particular that made you want to investigate it further and turn your research into a book?
Edith:  Even the night the drownings happened, the incident generated lots of questions no one—including the authorities—could answer with any real certainty.  As I covered both murder trials and the Chicago custody case a dozen years later, the story grew in complexity.  It was obvious this was a story worth sharing with an audience beyond the reach of the newspaper stories.
Steve:  For me, it was an easy decision.  I had a reporter who had covered this whole thing in real time—Edith was even at the hospital that night—inviting me to collaborate in a book that went beyond the usual "whodunit".  After I wrote my first book (Reasonable Doubt), I was frequently asked whether I would write any more true crime, and I answered I couldn't imagine writing a true crime book without having been around from the get-go.  I know many crime writers will parachute in well after the fact.  For whatever reason, I don't think I'm capable of that.  Edith personally witnessed much, maybe even most, of what we write about in The Unforgiven.  That's why it's so rich in detail.  And why I signed on. 
Q. It is interesting the differences in the criminal trials of Amanda and Maurice. For Maurice the only option the Judge allowed the jury to consider was murder. He was the driver of the car but do you feel other factors came into this decision? For example, he wasn't the children's father and police and prosecution strongly felt there was pre-meditation on his part?
Edith:  The Judge based his decision on a belief that Maurice should have been able to back the car up the ramp.  Instead the car went forward into the lake.  The adults escaped.  The three kids in the back seat did not.  In the Judge's mind, that made involuntary manslaughter an inappropriate option.  The Judge's ruling that allowed the state to put forth its theory of a conspiracy was a real benefit to prosecutors.         
Q. There is new information in your book on this case that wasn't presented in the two trials for Amanda and Maurice. Equally, both did not testify in each other's trials. Do you think the outcomes could have been different if this information had been presented and they both had testified?
Steve:  What an interesting question.  Maurice just read the book and said even he learned some things that he didn't know.
Edith:  Yes, and might have one, or even both juries, had a different take on the case if they had a full view of the circumstances?  If jurors in Maurice's trial had heard Amanda's version of what happened, would it have supported Maurice's claims about what occurred enough to sway them off a murder conviction?  His lawyers obviously thought her testimony held that potential. 
Steve:  On the other hand, with her trial following his by six months and he having been convicted of murder, I'm not sure his testimony would have been all that helpful to her. 
Q. Parallels were drawn early on with the Susan Smith case of 1994, a mother who drowned her two young sons by pushing her car into the John Long Lake in South Carolina and then reported the car had been stolen with the children inside. Do you think public opinion of Amanda has been influenced by the Susan Smith case and suggestions of similarities?
Edith:  The sheriff was the first to suggest a connection between the Clinton Lake drownings and the Susan Smith case…
Steve: On national TV!
Edith:  Yes, and when people hear a suggestion like that, they kind of automatically assume that, well, it's the police who are saying that, they know more about the case than I do, they must have a solid basis for that opinion or observation.  I think the suggestion that the two mothers had similar criminal intentions did shape the public perception about whether this was an accident.
Q. During the investigation, it was revealed Amanda Hamm had suffered abuse as a child, had subsequent self-harm incidents and substance abuse issues with a history of multiple failed relationships. How much do you think these factors influenced the Judge in her trial to allow the option of child endangerment alongside murder to be considered by the jury?
Edith:  The judge and the jury heard evidence of Amanda's vulnerable nature and about how people with such frailties are easily influenced.  I think the Judge's decision was at least partially influenced by what he learned.

Q. In Amanda's many interviews with police with no counsel present, there were suggestions of Maurice being a violent and controlling boyfriend who may have physically held her back from helping her children that night. How much do you feel this was the case?
Steve: If you analyze the direction and progression of those interviews, you'll see how Amanda's accusations against Maurice escalate as police press her to implicate him. All but one of the seven interviews — interrogations is a better word for most of them — were recorded…
Edith:  The one in the psych ward wasn't recorded…
Steve:  …and you'll find no direct accusation or statement from her that there was a plan to kill her kids.  And Maurice never wavered from his claim that he held her back so that rescuers could do their job without interference.  It's my personal opinion that if Amanda and Maurice had been in the water when the rescuers arrived, charges probably never would have been filed. 
Edith:  Maurice did admit that some of his arguments with Amanda had turned physical.  But his background showed no violent tendencies towards children, and no gang connections either.
Q. Amanda was found not guilty of murder, has served her time for her child endangerment conviction and has tried to rebuild her life. The State's decision to remove her children with her new husband entirely from their care is severe and unusual. Ongoing monitoring of the children and Amanda would be expected in this sort of case. Why do you think the State took such drastic actions?
Edith:  About the time Amanda was giving birth to her third "new" child, the state child welfare agency was under fire for its handling of a neglected child who died shortly after a caseworker had visited the home.  So you can imagine the agency didn't have much appetite for public disclosure of the fact that Amanda Hamm—the mother whose three children, in a highly-publicized case, drowned in her car–had since given birth to three more children.  There would have been a firestorm of bad publicity.  The Cook County State's Attorney's Office also recognized a rare opportunity to have Amanda challenged, to be held responsible, a second time in a courtroom concerning the deaths of her three children. 
Steve:  But this time the outcome would alter the future of her three living children. 
Q. There are some difficult questions of justice, punishment, and redemption raised in this case with regards to a situation of new children born to parents who have prior convictions of endangerment to their children. What precedent do you think this case and the actions of the State of Illinois has set for similar cases going forward?
Steve:  This ruling over the future of her "new" children occurred just last year.  But even since then, the state child welfare agency has come under increasing scrutiny for the way it's handled other cases.  Its record is not good.  In fact, a new report just last month from the Illinois auditor general accused the agency of failing to follow its own policies in its child neglect and abuse investigations. 
Edith:  It's important to remember that Amanda and her husband were not in any way accused of neglecting or abusing the three kids that were removed from their home.  If last year's ruling in this case is precedent-setting, it'll be based on the court's approval of the state's taking the children—not because they were being abused or neglected—but because the mother had been convicted of child endangerment years earlier.    
Q. What were your aims for writing this book and including the detail and the aftermath of this case for Amanda and her new family. What message did you want to leave with the reader?
Edith:  I hope readers gain some insight into how the criminal justice and child welfare systems operate.  Society supports second chances for people who pay their debts for wrong-doing.  But in the case of Amanda's second family, the state derailed her efforts to start over.  They cast a new wave of punishment over her. 
Steve:  I think this is a case—the drownings, the investigation, the trials, the follow-up child welfare issues with the second family—it all warrants examination.  We don't tell readers what to think.  We do lay out the facts in a compelling and comprehensible fashion and let readers decide for themselves whether justice has been done, whether society has been properly and well-served. 
---
Thank you Edith and Steve for such an insightful and fascinating interview!
'The Unforgiven: The Untold Story of One Woman's Search for Love and Justice' by Edith Brady-Lunny and Steve Vogel was published on 3 May 2019 and is available in paperback, kindle and audiobook at Amazon.