By Laura Lewis.
In 2011, something happened that would make sure a small town in Wiltshire was never the same again. In this town, the crime rate was amongst the lowest in the UK, and everyone seemed to know everyone. Having lived near this town for the first 18 years of my life, I can testify to this fact.
In this quiet town called Swindon, a 22-year-old woman named Sian O'Callaghan was out with friends at a local nightclub called Suju. At 2:52 am on the 19th March, Sian left the club and started the 800-meter walk back to her flat, which she shared with her boyfriend, Kevin Reape. At 3:24 am, Reaper sent Sian a text asking her where she was and when she was coming home. Sian never replied. At 9:45 am the next day, an increasingly worried Reape called the police and reported his girlfriend missing.
Police in Wiltshire immediately marked this as a level one missing person case; meaning that they believed Sian's life to be in immediate danger. Spokespeople for the Wiltshire Constabulary utilized the media and held a press conference, issuing a public appeal for information.
Throughout this case, it's clear how well the local police used the media to their advantage, issuing statements with false information to attempt to scare the perpetrator into revealing themselves.
Early Developments
After analyzing Sian's mobile records, police could see that when Kevin sent his girlfriend a text, her phone pinged a cell tower near the Savernake Forest, a secluded woodland around 15 miles from where Sian was last seen. In order for Sian to be in Savernake Forest when Kevin sent his message, she could only have gotten there by car. Finally, the police had some information to move forward on.
The task force began the painstaking process of reviewing CCTV and Automatic Number Plate Recognition (ANPR) recordings to compile a list of vehicles in the area on the night that Sian went missing. Officers noted that a Toyota Avensis was seen both outside the nightclub and around the Savernake area on that evening, and drew up a list of vehicles possibly involved. The list was over a thousand entries long.
Meanwhile, a search of the forest was taking place. Over 400 members of the public joined police search efforts, and an anonymous donor offered a reward of £20,000 for information that would lead to finding Sian.
The Arrest
Following the ANPR review, police identified a man called Christopher Halliwell, a local taxi driver, who owned a Toyota Avensis and was reported to have been in the town center on the evening of the 19th of March. Halliwell was quickly arrested on suspicion of kidnapping, and police immediately got to work questioning him. They were able to begin the interrogation in the back of a police car as an exception to the Miranda rule exists only if police believe that someone's life is in immediate danger.
It didn't take long for Halliwell to confess to kidnapping and murdering Sian, and to agree to take police to the burial site. Once there, he turned to Detective Steve Fulcher, who was leading the investigation, and said: "I'm a sick f****r. Do you want another one?"
To Fulcher's horror, Halliwell began to talk about another murder that he had committed back in 2003. He agreed to take the police to where he'd buried the second body, and at risk of Halliwell clamming up, Fulcher purposefully didn't remind him that he was still under caution and did not have to say anything.
This was Fulcher's biggest and only mistake.
Becky Godden-Edwards
Rebecca Godden-Edwards was a 22-year-old woman from Swindon, who was working as a sex worker. She was reported missing by her family in 2007, but they had come to hope she had simply left to start a new life.
Halliwell admitted to police that he had been a frequent customer of Godden-Edwards', and on a night in 2003, he slept with her, then strangled her. Halliwell had buried her body in a discreet rural area and simply gone about his life as if nothing had happened.
Finally, Becky's parents had closure and were able to properly mourn their daughter. Meanwhile, the police were busy building a strong case against Halliwell, who was now facing a double murder charge.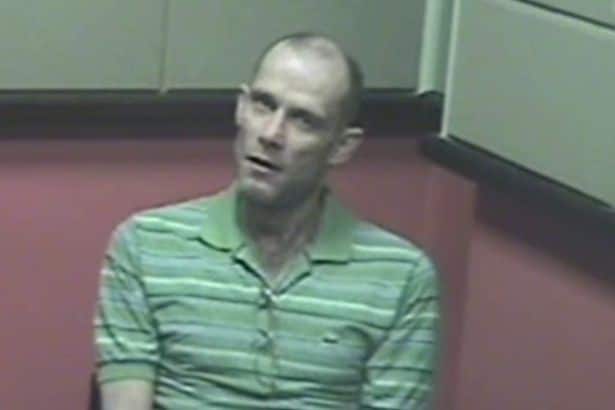 The Trial and Fulcher's Downfall
In October 2012, Halliwell changed his plea to guilty in relation to the murder of Sian O'Callaghan. The jury agreed, and he was sentenced to life imprisonment with a minimum sentence of 25 years. He later appealed this sentence, but a court upheld the decision of the judge.
As Halliwell was sent to prison, and the police were finalizing their case against him for the murder of Becky Godden-Edwards, shocking news came in.
All charges in relation to Becky's murder had been dropped.
Because Detective Fulcher failed to remind Halliwell that he was still under police caution when he confessed to killing Becky, his entire statement was determined inadmissible in court. The prosecution couldn't use a single word against him.
Fulcher became the center of an internal police investigation, and when asked, he said he deliberately didn't reiterate to Halliwell that he was under caution as he believed Sian may still be alive, and so put her rights before those of a suspected murderer. The investigation found Fulcher guilty of gross misconduct and gave him a final warning.
Unfortunately, despite solving a number of murder cases, Fulcher resigned in 2014. When asked about the impact of Fulcher's decision, Becky's mother, Karen Edwards, said that if Fulcher "followed the guidelines, Becky would never have been found".
On 31 March 2016, Halliwell was formally charged with Becky Godden-Edwards' murder, and in September a jury found him guilty. He was sentenced to whole life imprisonment, meaning that he is not eligible for parole, and will die in prison.
---
About the Author: Laura Lewis is a true crime enthusiast and blogger. Her fascination with true crime began during her teens when she read a journalistic account of the Fred and Rose West case. Day-to-day, she handles marketing campaigns for a wide range of businesses, but true crime has always been her passion. Her blog, lauloulew.wordpress.com covers a range of cases, and she readily welcomes reader suggestions on cases they'd like to see covered.
---
Related Books:
Unlimited reading on any device, try
Kindle Unlimited from Amazon
for free.
Prefer Audiobooks?
Audible 30-Day Free Trial
with free audiobooks.
All views, thoughts and opinions expressed in article text belongs solely to the article author. As an Amazon affiliate, Crime Traveller may earn a small commission from qualifying purchases. See our
Disclaimers page
for more information.